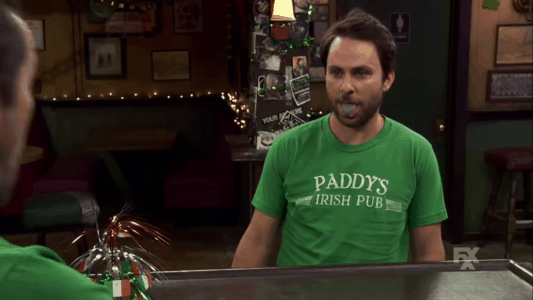 With St Patrick's Day less than a month away, It's Always Sunny in Philadelphia will be celebrating its Irish roots tonight in an episode that is all about the holiday. And what better place to host a Saint Patrick's Day party than at a bar specifically named Paddy's Pub? There's no doubt that the gang's place of business is in fact an Irish pub and in tonight's episode, we'll see them fully embrace that fact. Between Dee dressing in many colorful costumes and Dennis trying to create a mobile Paddy's pub experience, this episode is sure to bring out the craziness of the gang. Especially when things don't go as planned for Dennis because of uncooperative customers. For someone who is driven by a need for control, he probably won't take to this too well.
The true insanity will come, however, when Charlie and Mac set out to catch a thieving leprechaun who has been stealing from the bar. Will these two be able to work together to trap the thief or has Charlie digested one too many cans of green paint to be fully successful? Perhaps Mac will be able to come to the rescue with the karate moves he's been practicing for eleven seasons now?
Grab an Irish beer (or if you're under 21 perhaps a shamrock shake) and get ready to find out on tonight's episode of It's Always Sunny, airing at 10:00pm/9:00pm central on FXX. And if you can't wait until then, check out a preview of tonight's episode below.
[youtube https://www.youtube.com/watch?v=kMicJ3Efc64]