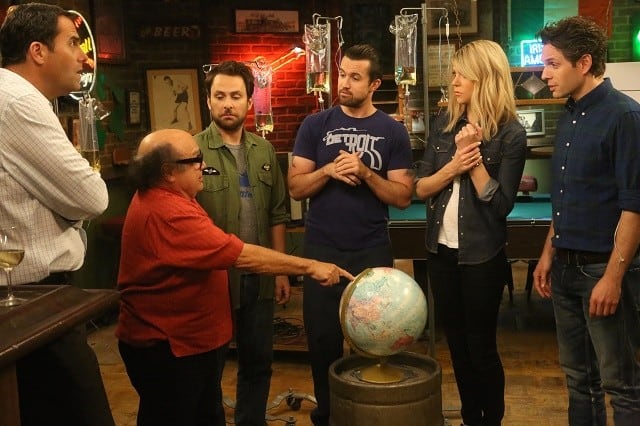 The wait between new seasons of It's Always Sunny in Philadelphia are lengthy ones and the seasons are always too short. The long waits are made to seem even longer by how good the show is, leaving the audience always wanting more. Even in it's eleventh season, this show is still managing to produce new and hilarious content by pushing boundaries and not being afraid to take on any topic. In the highly anticipated season eleven premiere, the gang returned to play a fan favorite game, Chardee MacDennis. Ask any It's Always Sunny in Philadelphia fan, and they will put the original episode in their list of top five favorites from the show. It's no surprise that Chardee MacDennis 2: Electric Boogalow met these high expectations, proving itself to be a fantastic season premiere for It's Always Sunny in Philadelphia and a perfect return for the gang.
Like most games that are as entertaining as Chardee MacDennis, the gang's made up board game that incorporates as many other games as possible, drew the attention of a potential investor. Despite an impeccably put together commercial in which the group tried to give a taste of what the game was like, the investor still wasn't quite sure how to play and wanted to try it out for himself. Of course, they were hesitant to start an actual games, knowing that they get very competitive and not wanting the investor to be off put by that. Instead, they all agreed that just this once, no one was going to care whether or not they won, their only objective being to sell the game to the investor. Naturally, this was easier said then done, as the game quickly devolved into the chaos that we've come to expect from this show.
While much of Chardee MacDennis stayed the same, we did see some changes in the game as they addressed some of the issues that were present last time we saw them play. For example, the pre-game wine and cheese is now followed by a flag raising ceremony with some of the strangest flags I've ever seen. Each team has their own flag and as a added bonus, the winning team now also gets to burn the losing team's flag. The game now also requires teams to use an IV to streamline wine into their bodies during the wine stage of the game, insuring that no one cheats like Dee and Dennis have been known to do, by drinking water instead. These changes helped to make this game even more delightful and entertaining to watch as the gang tried to get a handle on their competitiveness.
Unfortunately for them, their plan to make the game seem normal and fun backfired when Frank, who was mad that they wouldn't implement any of his (very dangerous) ideas into the game, turned on them. During one of the new challenges, that in true It's Always Sunny fashion revolved around taking a laxative and attempting not to poop while standing on a ladder (based off of Chutes and Ladders), Frank instead drugged them and locked them in the basement. He then proceeded to make them play his own messed up version of Operation, a challenge which everyone except Charlie refused to participate in (rightfully so, as Charlie ended up losing A LOT of blood).
The premise of this show has been all along that every character is at least a little insane and all of them are terrible people. This episode confirmed that that would still be the case in season 11, as the gang quickly realized that Frank's plan from the start was to get them to quit the game so that he would win. The investor wasn't real, instead someone Frank had hired to go along with the ruse. While we spent the whole episode watching the gang try to reign in the craziness that comes from their competitiveness, it was Frank's insanity that was driving the game all along anyway.
And of course, when the final round later came down to just Mac and Charlie versus Dennis and Dee, we again saw how awful these characters are. Charlie, still losing large amounts of blood, was forced to stand and be berated by the waitress in the emotional battery round. When he passed out from loss of blood and was rushed to the hospital, he believed that he had made it through the round without crying at all. Dee and Dennis were waiting for him when he woke up, seeming for once like genuine and caring friends. This lasted for all of about two minutes before the duo informed Charlie that he had started crying right away and then proceeded to stomp on his troll and burn his flag right in front of him in the hospital room. This was an incredibly fitting ending to a great start to the season for It's Always Sunny in Philadelphia. I truly can't wait to see what they have planned for the rest of the season.
[Photo credit:Â Â Patrick McElhenney/FX]
It's Always Sunny in Philadelphia Season 11 Episode 1 Review: "Chardee MacDennis 2: Electric Boogaloo"
Summary
Chardee MacDennis returns in It's Always Sunny in Philadelphia's fantastic Season 11 premiere.