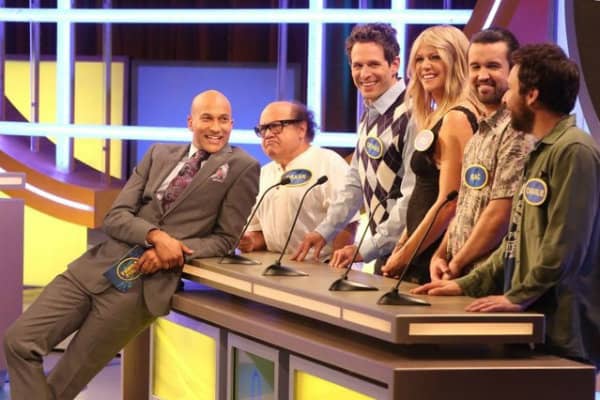 Right when you think It's Always Sunny in Philadelphia can't get any better, they make a whole episode spoofing Family Feud. If you were to look up the word 'family' in a dictionary, the gang is probably the last thing you would expect to see. But if you look more closely, their little dysfunctional group really is like a family. After all, Frank raised Dennis and Dee, he may biologically be Charlie's father, and apparently now he has adopted Mac. They certainly spend as much time together, possibly more, than a typical family does and they argue just as much as any other family. So while the gang isn't a typical family in any sense of the word, it works for them because really, no part of the gang is typical.
While it may be true that no part of the gang is typical, Dennis is determined in this episode for them to come across as normal. However, this proves to be an impossible feat. Even given the opportunity to appear on television, the gang cannot reign in the crazy for even the shortest amount of time, which makes sense given what we already know about them: they don't even realize that their behavior is abnormal.
Frank's polarization and grossness, Dee's determination to be sexy but crass, Mac's inability to understand the rules of a game show, and Charlie's answers that truly only he could think of all work together to make them appear to be anything but normal. But it isn't only those four who come across as a little off center. Dennis has his own issues with the game show buzzer that he is unable to get over, leading him to make the biggest fool out of himself on national television.
The arc of this episode is especially interesting to look at, as the group started out strong with a few good answers provided by Frank, Dee, and Mac (even if Dee chose the most inappropriate way to phrase her answer). It was Dennis who first answered incorrectly, earning him the first buzz and revealing his frustration at being wrong. Even Charlie, who believes that dragons are an animal that humans eat that doesn't eat us, hilariously got an answer right.
As the show progressed, their true colors started revealing themselves, and it quickly became obvious that they only had two choices for fast money. Dee and Dennis, who still believed that he was the best and most normal out of the group, were given the responsibility, but Dee's refusal to eat caught up to her, causing them to use Frank as a replacement. With Frank earning all the number one answers, Dennis crumbled (literally) under the pressure of the buzzer. The funny thing is that the gang is not inherently bad at the game. In fact, they're quite good at it. In the end, it's their dysfunction and abnormalities that stops them from winning, showing that Dennis was right to be worried about that all along.
What made this episode join some of the all time bests from the show's run is that it really fired on all cylinders. Every character had some really funny moments and contributed something great to the episode. At the same time, they all managed to stay so perfectly in character that it was impossible not to laugh when Frank talked about his toe knife as a personal grooming item or when Mac insisted that all answers be given in question form. In terms of comedy, this episode was It's Always Sunny in Philadelphia at its greatest, as the series continues to be one of the best comedies on television.
Favorite Moments:
– Mac repeatedly annoying the game show host, by stealing his line and yelling "Show me cow!"
– "You can't become a groom, or get groomed, without a bride." Charlie's logic is the best.
– No one does 'mental breakdown' better than Glenn Howerton.
[Photo via FXX]