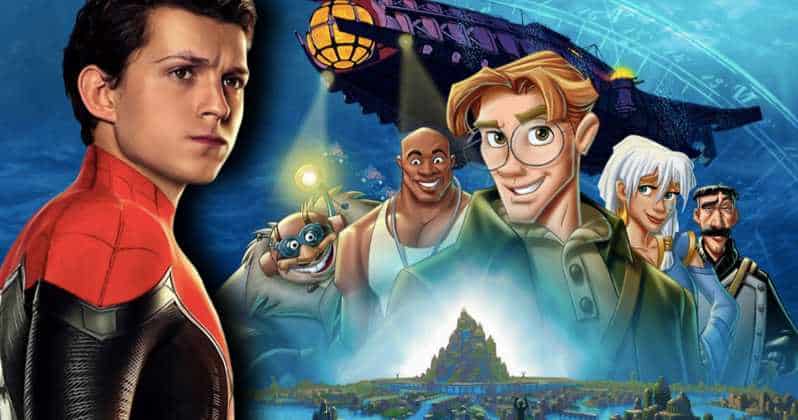 Why not? Disney's been going nuts with the live action these days so why not bring to mind one of the most impressive Disney movies that got so little play back in the day? I'm going to go ahead and toss my opinion in the ring with MovieWeb's Mike Sprague and state that Atlantis: The Lost Empire deserves this kind of attention since at this point and time Disney has only been focusing on the most classic and most well-noted movies that helped to expand its reach and became some of the most lucrative stories in their vault. Again I'll agree with Sprague that this movie should have likely been live action from the start, but all in all the technology back then wasn't quite up to par and it's probably best that it was animated. Now however, with the kind of technology that filmmakers are able to get their hands on there's no reason why this movie can't be made into an epic that kids will love to learn more about and adults that watched the animated version back in the day will love to see.
Not only does the movie introduce yet another princess to the fold, but it covers a subject that's been an interest of many people throughout the ages, the lost city of Atlantis. Given that Aquaman was such a huge hit and did inspire another look at the lost city of legend and myth this one could only heighten that interest if it was done in a manner that not only followed the original story, which is the rumor, but also held to the idea it created of Atlantis. So far it would seem that Disney is fully on board with making this movie and is making inroads to figure out just how it would be done, but chances are it's going to be a long and careful process since taking animation and putting in the hands of live action is something that has been seen to be kind of tricky. The casting will no doubt be one of the biggest issues since Tom Holland is already being considered for the role of Milo Thatch, the main character that was voiced by Michael J. Fox in the animated version. There's been fan art that has shown Jessica Alba as Princess Kida, and there are already ideas for the other characters. John Connor Coulston of PopCulture has even devised a list of characters that might work, but he's placed Cole Sprouse as Milo instead of Holland, which seems to indicate that his list might have some out a little sooner or he just has a different idea.
A few other names that have been thrown out are Tommy Lee Jones, Michelle Rodriguez, Helen Mirren, and even Danny DeVito. The characters that are available are all colorful and easy enough to inspire said actors and it's likely that we might even see a couple of those that have been mentioned. But when we'll see them is a big question that has yet to be answered. As of right now it would seem that this is more of an idea that really needs to be fully developed before it can be put into action, and as a lot of us have come to realize it could be that we won't be seeing it for some time to come, possibly when our kids are nearly grown, but hopefully not. This is one of those stories that didn't get a lot of play back in its day but really impressed some folks, those that actually learned about it at least, and should be given its fair shot. In truth the competition it's facing in terms of other Disney live action movies isn't all that stiff since The Lion King and Aladdin and a few others haven't really blown people away as some thought might happen. Beauty and the Beast was perhaps one of the most impressive of the live action movies, and that's largely because it's been such a huge story for Disney for so long. Atlantis is a tale that has likable and believable characters and a very solid and easy to follow plot, but for some reason it just didn't resonate with a lot of people when it was released, and as a result it was put on the shelf where it could collect dust for a while.
Thankfully though the idea seems to be to take it off and see if it can run on its own again, and there's a lot of faith that it can do so since there are plenty of actors out there that would likely be willing to take on the many roles that are there for the taking. If you recall this movie was actually more diverse than several others, and would no doubt, as a result, be much easier to push to a crowd that's looking for diversity these days.