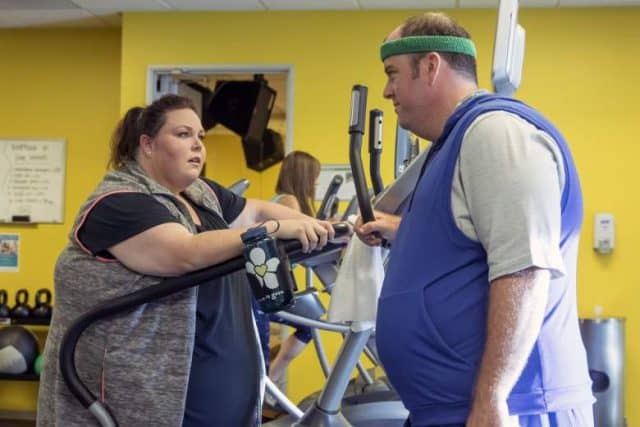 He's one of your favorite characters on This is Us because he provides much of the comic relief we all need from a show that has us in tears more than half the time.  That character is Toby and that character is played by Chris Sullivan.   Not only is Toby a central character in the show now, he's essential.  With all of the serious events taking place with the Pearson family, Toby is a necessary "break" from all of the drama.  While he's had a few serious moments, the near heart attack being the biggest one, he should remain that piece of humor we all appreciate.  Let's take a closer look at Chris Sullivan, the actor who plays Toby.
Here are five things you might not know about him:
The fat suit controversy
Many viewers watching the show wondering from the moment we saw Toby if the actor playing him was wearing enhancements to make him look larger.  The answer is "yes."  Some people don't like it.  Some, like Refinery 29 had this to say: What doesn't do plus-size actors justice is hiring someone to pretend to be overweight. Knowing Sullivan is wearing a fat suit feels disrespectful to the story This Is Us is trying to tell about one's struggle with weight, but more importantly, it feels disrespectful to Metz.  Do you agree with this?
Guardians of the Galaxy 2
He's going to be in the Guardians of the Galaxy sequel playing someone named "Taserface."  Before This is Us, Sullivan had a pretty limited role in Hollywood. He has starred in single episodes of various TV series: A Gifted Man (2012), Elementary, Law & Order: Special Victims Unit, and The Americans (2013). He also played Sprit in the 2008 Sundance Film Festival nominated movie North Starr, and appeared in such films as The Normal Heart and The Drop (2014)
He's really tall
While he appears tall on the show, there's no way you knew that Chris Sullivan is actually 6'4 and 250 lbs in real life.   While we don't see any evidence of him ever having played football, he's a pretty big guy.
Not Afraid to Dress a little Weird
If you wanna bring color to the party…better bring some @LoudmouthGolf pants! #PeoplesChoice #ThisIsUs pic.twitter.com/mqVYm2g5VG

– Chris Sullivan (@SullivanTweet) January 19, 2017
People might not realize it but Chris Sullivan has a lot of gusto when it comes to his outfits.  If you caught him at the Golden Globes you'd know what I was talking about.  Just check out this Pee Wee Herman like tie and insane pants get up.  Like his character Toby, he's certainly not afraid to embarrass himself or take a risk.
Rising on Twitter
He's up to 25K followers right now.  Before this is us?  Let's just say he didn't have as much.
Check out Chris on tonight's new episode of This is Us