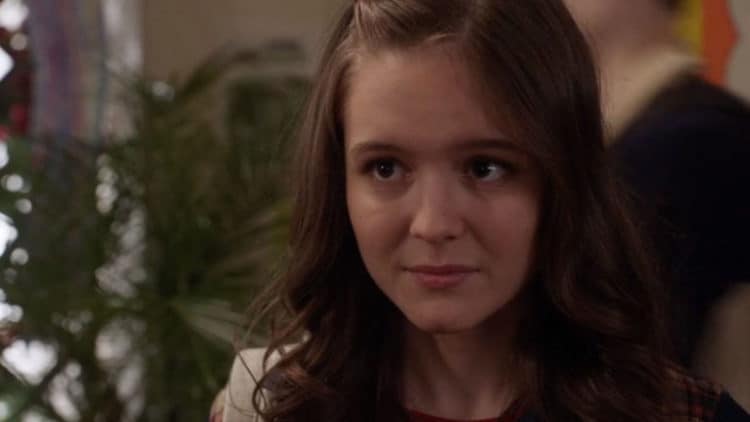 Izabela Vidovic has known she wanted to become an actress since she was in elementary school. Not only has she made that dream come true, but she's done it in a major way. Since making her on-screen debut in 2011, Izabela has gone on to make more than two dozen additional on-screen appearances. From TV to film, she has shown that she can do it all. Many will recognize her best from her role in shows like The Fosters, Supergirl, and Veronica Mars. Her captivating presence has earned her the attention of viewers and the admiration of colleagues. Not only does she have lots of success behind her, but the future is looking bright as well. Let's get into 10 things you didn't know about Izabela Vidovic.
1. She Isn't The Only Actress In The Family
Izabela was born and raised in the Chicago area. Her mother, Elizabeth, is a filmmaker, writer, and actress. During an interview with Flaunt Izabela said, "My mom has been my main inspiration for pursuing acting as a career. Growing up, I remember being so captivated by her work and ardor for the craft." Izabela's sister, Katarina, has also done some acting.
2. She's A Singer
The world knows Izabela for her work as an actress, but her creativity doesn't stop there. Izabela is also a talented musician. She sings and plays the guitar and has even written some of her own music. Although she has shared clips via social media, it doesn't appear that she has officially released any music.
3. She Got Her Start In Theater
Growing up with a mother who works in the entertainment industry made it easy for Izabela to express her desire to get into acting. Izabela was just a little girl when she started acting in local theater productions. Some of the plays she did included Mary Poppins and Camp Rock.
4. She Enjoys Playing Characters Who Have Layers
The types of roles actors choose to take can make or break their careers. With that in mind, Izabella likes to put some thought into the roles she agrees to do. When picking the perfect opportunity for her, she likes to focus her attention on good writing and multi-dimensional characters.
5. She's Also Done Work Behind The Scenes
Storytelling is one of the things that Izabella loves most about acting, but she doesn't just want to tell stories from in front of the camera. Izabella is a writer, director, and producer. She will be producing an upcoming movie called Severed Silence which she will also be starring in.
6. She Likes To Bake
During quarantine, Izabela found herself spending more time in the kitchen. She wasn't just making trips to the fridge, however. She was also working on her baking skills. Izabela loves getting creative in the kitchen and trying different recipes. She often shares her pictures and videos of her creations with her followers on social media.
7. She Is Bilingual
Izabela is fluent in English and Serbo-Croation. Although all of her work so far has been in English, she hopes to work on Croatian-language projects as well. While talking to Flaunt she said, " I actually co-wrote a feature film with my mom that explores my Bosnian heritage. It's about a teenage girl, Sara, whose hopes of becoming a musician appear out of reach–between her paralyzing stage fright and her stubborn, traditional Bosnian father–until an opportunity to audition for Julliard presents itself."
8. She Has A YouTube Channel
As a young person in the entertainment industry, Izabela understands the importance of having a strong online presence. In addition to being active on Instagram, Izabela has a YouTube channel with almost 1,500 subscribers. Even though she isn't very consistent with her uploads, the channel currently has more than 51,000 views.
9. She Loves Nature
There's something about the peace and quiet that comes with being out in nature that nothing can compare to. This is something that Izabela can relate to. Izabela really likes spending time outdoors and doing things like going hiking and hanging out near the water.
10. She Enjoys Helping Others
Izabela has built a large fan base over the course of her career, and she hopes to leverage this to help make the world a better place. She loves helping others and she is the founder of a non-profit organization called Passion for Compassion. According to the organization's website, Izabela's "main goal is to challenge each of us to celebrate the uniqueness of every individual, to demonstrate kindness every day, and to be advocates for inclusion any chance we get."