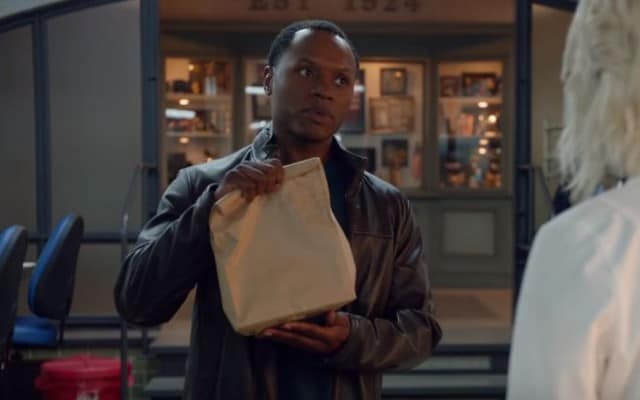 iZombie has shown fans a lot of different sides of Clive Babineaux in the CW series' second season, from his completely warranted anger against a father who was abusing his son to his flirting and romantic skills in his new relationship with Agent Bozzio. However, in this coming Tuesday's episode of iZombie, "The Hurt Stalker," both fans and Liv and Ravi will discover something they never knew about Clive before: he cooks.
In the sneak peek below, Clive tries to gauge what his coworkers think of his cooking abilities when he brings them each a po-boy sandwich, claiming it's from a Cajun restaurant near his house. Hilarity ensues, though, when Liv and Ravi, who both know that Clive is the one who made the food, begin critiquing how bland their sandwiches are before revealing that they were messing with him. Liv even calls Clive's interest in cooking "adorable," a word that he's not too fond of.
iZombie airs Tuesdays at 9 p.m. on The CW. Check out the clip from "The Hurt Stalker" below, along with The CW's official description of the episode.
ALL ABOUT CLIVE — Detective Babineaux (Malcolm Goodwin) arrives at the crime scene of a wedding planner who was shot to death, and is shocked to realize that he used to date the victim. To make matters worse, we learn that the murder victim was stalking Detective Babineaux, and that he is now the number one suspect in her murder. Liv (Rose McIver) and Ravi (Rahul Kohli) pose as an engaged couple in order to infiltrate the victim's wedding planning business. Meanwhile, Major (Robert Buckley) is having a tough time dealing with Liv on stalker brains. Michael Wale directed the episode written by Sara Saedi.
[Photo via YouTube]