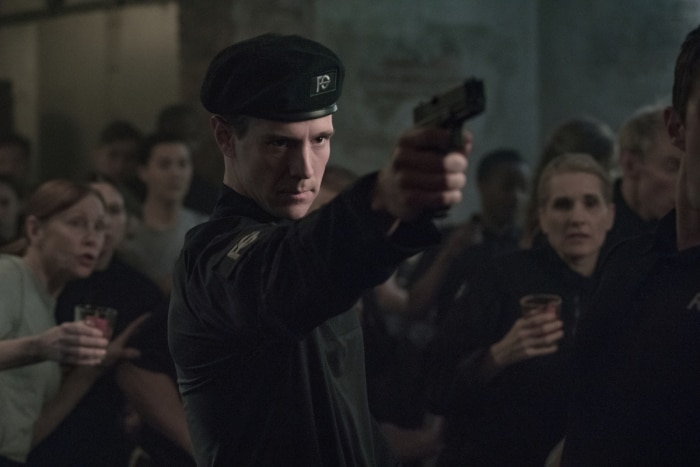 If I were judging "Insane in the Germ Brain" solely on its final five minutes, it'd probably be my favorite episode of iZombie Season 4. Even though the loss of Isobel was expected, especially given all her fake-deaths throughout the hour, it's still a gut punch to watch her mom, Liv, and, especially, Ravi react to her passing. The performances of Rahul Kohli, Rose McIver, and Izabela Vidovic in the final moments of this week's iZombie are nothing short of spectacular; Kohli's delivery when he tells a dead Isobel to get up because of the work they have to do together is absolutely heartbreaking, and it's some of the best work he's ever done on the series throughout its four seasons.
As I mentioned in my review of "Yipee Ki Brain, Motherscratcher," iZombie has done a wonderful job of solidifying Isobel's character and her relationships with Liv and Ravi in just a few short scenes. Even though Vidovic has only been a guest star on the show for the past four episodes, it feels as if Isobel's character has been around all season, providing our favorite medical examiners with hope and laughter amidst all of the horror that exists in New Seattle. It sounds cheesy but Isobel was a bright light for Liv and Ravi, a way for them to escape the borders of Seattle even though they could physically go past them. While I expected that Isobel's sole purpose this season would be to help Ravi create a new, more stable cure for zombies, her presence actually ends up being so much more than that—she serves as reminder of what he and Liv are fighting for and what they have to lose: their humanity. That's what makes Isobel's death all the more tragic. She isn't taken out by Chase Graves or Blaine or Angus, as I had predicted she might be once they discovered she was immune to the zombie virus; instead, Isobel is the victim of an incurable disease, a sickness that not even Liv, who always tries to be "the hero" that Major says she is, can stop. It's a death that, in some ways, is more heartbreaking than Lowell's in Season 1, Drake's in Season 2, or Natalie's in Season 3 because Isobel was just a kid, and she reminded Ravi throughout the past two episodes, by mentioning that she had never had sex and wanted to learn how to drive, that she had so much more life that she deserved to live.
And unfortunately, Isobel isn't the only teen that loses her life in "Insane in the Germ Brain." After Chase Graves unloads a storm of bullets into Jordan for letting Russ Roche get away, Fisher fires back at the Fillmore Graves leader, hitting his neck and causing Chase to shoot him in the head. Although the execution of the scene is awkwardly handled (the slow motion and dramatic music make the moment feel more melodramatic than it should), it still holds a great deal of weight, because it not only signals that Chase Graves has become completely unhinged but also hints towards a possible turn against him by Major.
Throughout Season 4, Major has been relentlessly loyal to Chase Graves, sometimes to a fault, and in this week's episode, Chase celebrates Major yet again after he dismantles Russ and AJ's brain-stealing business. That whole storyline, which has been carried on throughout numerous episodes now, feels like a forgettable plot device, though, one whose sole purpose was to get us to this moment where Major watches one of his recruits die, which should certainly bring back to mind the countless kids he lost to Blaine's murderous behavior in Season 1. Depending on how remorseful Chase is after his killing of Fisher (and something tells me he's not going to feel too bad), Major could view his boss through the same lens that he views Blaine and fight against him if it's a choice between supporting Fillmore Graves and protecting Liv. Chase Graves has become more erratic with each episode this season, and "Insane in the Germ Brain" finally feels like the point where he steps too far over the line, even for someone as loyal as Major. I'm curious to see what the fallout will be in the final two episodes of the season.
But perhaps more important than anything Chase, Major, or Liv will do in these last two episodes is what Angus, aka Brother Love, will have planned. Thanks to Don E. (who is on music video director brain in this week's iZombie), Angus's zombie-first rhetoric reaches hundreds of thousands of people, both inside and outside of New Seattle, after a video of one of his sermons is posted online. As Peyton mentions before she heads to D.C. (more on that in the "Other thoughts" section below), Brother Love's promotion of zombies as the supreme race and humans as food is going to make any type of peace talks near-impossible, and that could mean that the U.S. government might consider bombing New Seattle before iZombie Season 4 is over. However, what's even more interesting to me is how Angus's words will impact the people inside the city's borders, a community that is becoming more zombie than human with each passing day. As Peyton's parents suggest, could she and other humans like Clive be casualties in an upcoming human/zombie war? Will the limited law and order that exists in New Seattle remain when super-strong beings like zombies rally against any and all humans that try to restrict them?
We see Angus's radical ideas striking a chord with zombies all throughout the city, including the Fillmore Graves Inspector, and if more and more people start believing in his sermons as the true way of the future, then New Seattle isn't going to be "new" for too much longer. The city's going to start to transform into the Wild West, and no type of law enforcement or government force, not Clive or Peyton or Chase Graves or even Liv, will be able to prevent it from happening.
Other thoughts:
Bozzio officially breaks up with Clive in this week's episode. She hears Clive describing how he wants to have kids to Liv in video footage from last week's episode (Cavanagh asks her to show him Liv beating the criminal with a fish for a laugh), and their break-up scene is just as sad as I feared it would be. It's clear that Bozzio is lying about having met someone else; in her mind, she's ending things with Clive for his sake, so he can have a future with someone like Michelle. However, even though Clive enjoys Michelle's company and can see more of a future with someone human, he can't shake off his feelings for Dale, and it distracts him throughout the entire episode, no matter what he's doing, whether it's interrogating a suspect or getting intimate with Michelle. I want to believe that Clive and Bozzio aren't truly done because I personally need more closure than what we got in this episode, but I don't see how they survive as a couple with her being a zombie.
Ravi meets Peyton's parents for the first time, and I absolutely love how he sticks up for himself and Peyton when her dad tries to make a dig at his profession. Even more so, though, I really appreciate that Ravi wants Peyton to stay in D.C. and get as far away from Seattle as possible. Of course he wants to be with her, but he values her safety more than anything else. And that's why Ravi is the best.
Liv eats the brain of germaphobe this week, and it's pretty forgettable aside from the small but hilarious moment where she says goodbye to Peyton by touching elbows with her instead of hugging her.
Also, what do we rate Liv's Peyton Charles disguise? I'd give it a solid 7 out of 10.
One last shout-out to Izabela Vidovic, who turned Isobel into one of iZombie's very best characters in just a few short episodes. Also, her final scene, with Isobel saying goodbye to Liv and Ravi, destroyed me. Honestly, just thinking about it makes me start to tear up again. Whatever show or film features her next is lucky to have her.
"Looks like someone didn't get his flu shot." "And maybe turn into a werewolf? No thanks."
"Man, she's got pretty big hair." "And a pretty big penis."
What did everyone else think about this week's episode of iZombie? And with only two episodes left, what are your overall thoughts on Season 4? Comment below and let me know.
[Photo credit: Jack Rowand/The CW]
iZombie Season 4 Episode 11 Review: "Insane in the Germ Brain"
Summary
Liv and Ravi are forced to say some tough goodbyes, and Chase Graves' unhinged behavior becomes more dangerous than ever in an emotional episode of iZombie.