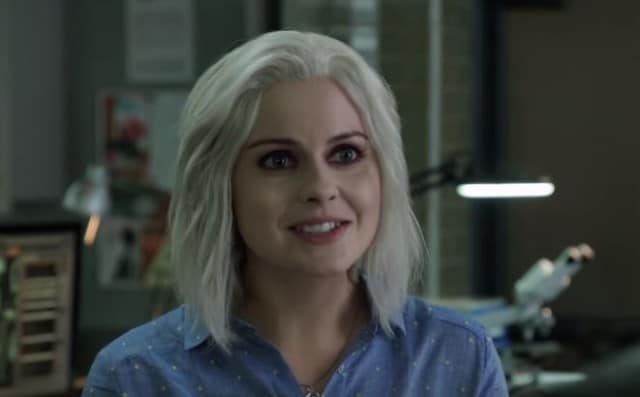 Despite how rough of a year she's had, Liv will be the most optimistic version of herself in this week's episode of iZombie, titled "Eternal Sunshine of the Caffeinated Mind." Why is that? Because she eats the brain of the most positive-thinking coffee shop owner in Seattle, ensuring that she has a "sunny outlook" that helps Clive as they work the case together.
However, Liv may need her new optimistic approach to help her with more than just the case. As iZombie executive producer and showrunner, Rob Thomas, previews in the sneak peek below, she may soon be hit with another major emotional bombshell: discovering that Major and Rita have been sleeping together.
Elsewhere in tonight's episode, Stacey Boss learns more about who his competition is when it comes to selling Utopium. Does that mean a confrontation between him and Blaine is coming? Also, we get an update on the rats. Could Ravi be closer to a cure? We'll have to wait and see.
iZombie airs Tuesdays at 9 p.m. on The CW. Check out the sneak peek from "Eternal Sunshine of the Caffeinated Mind":
ENRICO COLANTONI ("VERONICA MARS") GUEST STARS — When an incredibly optimistic coffee-shop owner is murdered, Liv (Rose McIver) uses her sunny outlook to help Clive (Malcolm Goodwin) solve the murder. Meanwhile, things begin to go from bad to worse for Blaine (David Anders), and Drake (guest star Greg Finley) is forced to cancel plans with Liv due to a run in with Seattle's finest. Robert Buckley and Rahul Kohli also star. Jason Bloom directed the episode written by Kit Boss.
[Photo via YouTube]