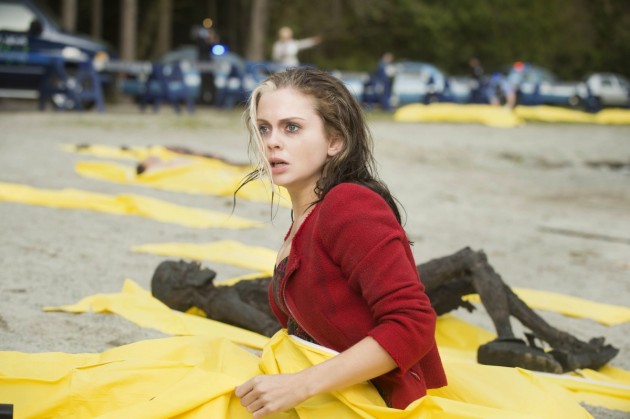 Yesterday was a big day for The CW. Not only did the network win its first-ever Golden Globe last night, when Jane the Virgin's Gina Rodriguez took home the top prize for Best Actress in a Comedy or Musical Series, but earlier in the day at the Television Critics Association winter press tour, it also renewed all eight shows on its fall schedule, including lower-rated series like the aforementioned Jane, Reign, and The 100, and also released the first trailers for two of its new series, iZombie and The Messengers, which will both be premiering in the spring. Of the two series, iZombie, which is loosely based on the DC/Vertigo comic and comes from Veronica Mars creator Rob Thomas, is the one getting more buzzed, but we've got both trailers for you to look at so you can decide whether you want to tune into these shows or not.
iZombie stars Rose McIver (Once Upon a Time, Masters of Sex) as Olivia "Liv" Moore, who, one night, is turned into a zombie at a party and does her best to fit into normal society while helping the police solve murder cases. The series' cast also includes Malcolm Goodwin, Rahul Kohli, Robert Buckley, and David Anders and will premiere on Tuesday, March 17, at 9 p.m. Below is The CW's official description for the series and the first trailer.
Olivia "Liv" Moore was a rosy-cheeked, disciplined, over-achieving medical resident who had her life path completely mapped out…until the night she attended a party that unexpectedly turned into a zombie feeding frenzy.  As one of the newly undead, Liv is doing her best to blend in and look as human as possible.
The Messengers comes from executive producers Trey Callaway (Revolution, CSI: NY) and Basil Iwanyk (The Town, The Expendables, Clash of the Titans) and stars Jon Fletcher, Sofia Black-D'Elia, JD Pardo, Joel Courtney,Anna Diop, Craig Frank, and Diogo Morgado as The Man. The series premieres on Friday, April 10, at 9 p.m. Check out the official description and full, extended trailer for The Messengers below.
A mysterious object plummets to Earth and explodes in a blinding flash, sending out a shock wave that instantly connects five strangers with extraordinary gifts, from inexplicable strength to the ability to heal others.  Most mysterious of all is a figure known only as The Man, who brings death and suffering wherever he appears.  The wheels of Revelation have begun to turn, and these five newly christened Angels of the Apocalypse may be the only hope for preventing the impending Rapture.
Which of these two CW new series are you looking forward the most? Or do neither of them interest you?
[Photo via The CW]