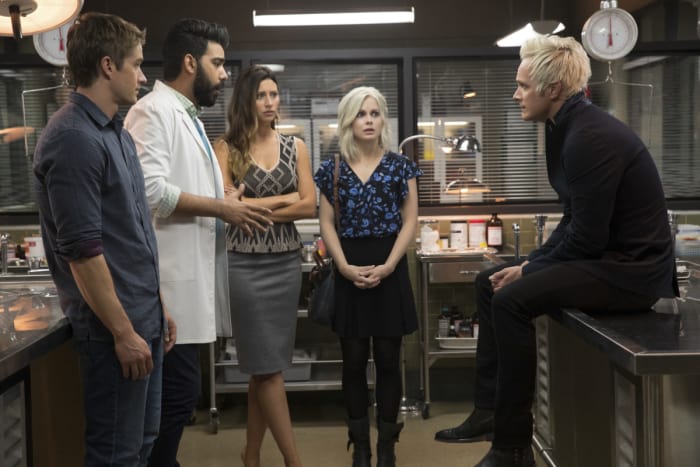 The first two episodes of iZombie Season 3 were this show at its very best, a perfect combination of the heart, humor, and horror that make this series so special. That's an almost impossible level of quality to maintain for a long length of time, but if you go back to Season 2 and its final stretch of episodes, you could argue that iZombie has been delivering that type of quality for nearly a dozen or so episodes now. And that's why I won't fault the show too much for this week's installment, "Eat, Pray, Liv," which is an underwhelming hour that pushes the pause button on the Fillmore-Graves storyline and gives its attention to the love triangle between Ravi, Peyton, and Blaine and Major's deteriorating condition.
In theory, this switch of focus is a great idea. Every once in a while, it's nice to get a break from the overarching story of a season and to let a show's supporting characters get some time to shine. However, iZombie loses a little something by spending so much time with Ravi, Peyton, and Major, as it pushes both Liv and Clive into the background; in fact, you could make an argument that Liv virtually does nothing this entire episode, as she doesn't even have any visions after consuming Topher's "mindful" brain and doesn't really factor into helping Clive solve the murder.
When you have a main character as strong and compelling as Liv Moore, pushing her to the side, even for just an episode, is a hard act to pull off, and ultimately, it hurts iZombie in "Eat, Pray, Liv." It's not so much that everything else (and everyone else) in the episode is boring or dull, but aside from Major's health struggles, it all lacks the power and substance of what we've seen from the past two weeks. There are no difficult moral conflicts or tragic backstories being explored; it's mostly just relationship drama between Ravi and Peyton, which can and does work well during the scenes in which Peyton gets to call out Ravi on his self-centered behavior. However, it all falls apart at the end of the episode when it's revealed that Ravi made the impulsive (and absolutely boneheaded) decision to sleep with Katty after Peyton didn't immediately respond to his declaration of love.
The reason that I'm so frustrated with this storyline right now isn't because I necessarily need Ravi and Peyton to be together, and it's also not because I have any problems with love triangles on TV shows. My issue with this story comes from the fact that Ravi seems to be, at least in my point of view, behaving wildly out of character. I can buy into him blowing off Peyton for a few days as he tries to deal with the news about her and Blaine, and I can even buy into the fact that he would make such foot-in-mouth comments as the "adult film" ones that he says to her when he tries to apologize.
However, I just don't believe that Ravi, right after he finally tells Peyton that he loves her, would then go and immediately sleep with someone else, no matter how hurt he was and no matter how little of a chance he thought he had of getting back together with her. After how much kindness, compassion, and care we've seen Ravi give Peyton over the first two seasons of the series, the fact that he would instantly try to forget about her by hooking up with another woman rings false to me; it all comes off as a contrived way to create unnecessary drama, and that's something we've never seen from iZombie before.
Still though, I do appreciate the fact that the show's writers don't let Ravi off the hook for his poor treatment of Peyton. Their first conversation in "Eat, Pray, Liv," in which she tells him that his opinion on her and Blaine is "irrelevant" and questions whether his apology to her is really just an attempt to get an apology from her, show the fire and passion that we've come to expect from Peyton. Unlike Ravi's actions, they feel true to her character, and she's right to call him out in the way that she does. I just wish the rest of the storyline felt as authentic as that opening scene between them.
But while this week's iZombie fails to make the drama between Ravi and Peyton as compelling as it should be, the same can't be said for what it does with Major's storyline. Everything involving Major in "Eat, Pray, Liv" is absolutely fantastic, from his mercenary training struggles to his and Justin's blossoming friendship to, of course, his fears over his impending death or loss of memory. Robert Buckley gives a dramatic performance that nearly matches the heights of his comedic work in last week's episode. There aren't any big, flashy acting showcases, but Buckley really shines in the little moments he's given throughout the episode, such as when he perfectly encapsulates the sadness and longing that Major feels as he watches Liv and Justin play the dancing video game together with just one look.
Obviously, iZombie isn't going to kill off Major anytime soon; he's too important of a character to this show, and as I mentioned above, Buckley is just too damn good in this role. However, it will be very interesting to see what the writers decide to do with his character, depending on whether or not the serum that Ravi gives to Blaine works and he's able to recover his lost memories.
If the serum fails to work, would a Major without his memories of Liv, Ravi, and Peyton be as great of a charcacter as the Major we have now? And if the serum is successful, then what will stop Liv from taking the cure and serum immediately so she doesn't have to be a zombie any more? Knowing iZombie, the answers to these questions won't be what we expect, but I do hope that, no matter how the series answers them, it can get back to telling its stories in the honest, emotional way that it typically has before "Eat, Pray, Liv."
Other thoughts:
One fun story development that I didn't mention above is that Angus and Don E. open up The Scratching Post in this week's episode. It was revealed months before Season 3 started that iZombie would be introducing a zombie speakeasy this season and that it would be called The Scratching Post, but I never would have predicted that it would have been the business that Angus and Don E. were cooking up together. Can't wait to see where this story goes next, and I am also very interested to see how Liv, Major, and the zombies over after Fillmore-Graves react to having a new bar that's just for them.
It had also been teased before Season 3 started that we would get a lot more of David Anders singing, and now we know why, as we learn that Blaine has gotten a job as a lounge singer. It's a fun, new occupation for the show's former villain to have, but I do wonder how Blaine will react to this singing gig if he does get his memories back.
Katty Kupps is getting closer and closer to finding out about zombies, as she begins making more connections between Max Rager, the boat party, and people eating brains. Ravi is doing everything he can to prevent her from discovering the truth, but it's only a matter of time until she finds out, right?
So does anyone else think that iZombie is hinting at a possible romance between Liv and Justin? I know the two of them are on some pretty positive-thinking brains when they first meet, but they just seem to click a little too quickly for there not to be something more there. Maybe I'm reading too much into it.
Overall, I was pretty disappointed with Liv on lifestyle guru brain. I wanted a few more funny moments, but at least we did get to meet Lady Bird.
Speaking of this week's brains, I also wish we could have seen more of Major on Zumba instructor brain, but the few moments that we do get of it are absolutely wonderful.
Which expression was better: Clive's when he has to go into the dumpster to look for the trash bag, or Ravi's when Liv accidentally gives him her brain drink instead of his tea?
There's some great comic-book title cards in this episode, but my two favorites have to be "Zombie Dark Thirty" and "Third Eye Blind."
After Clive describes how Topher's head was bashed in by his own statue, he says this murder "feels personal." But Ravi hilariously suggests that it could just be "a tragic misunderstanding of 'open your mind.'"
What did everyone else think about tonight's episode of iZombie? Comment below and let me know.
[Photo credit: Jack Rowand/The CW]
iZombie Season 3 Episode 3 Review: "Eat, Pray, Liv"
Summary
Liv eats the brain of a lifestyle guru, and Ravi is finally honest with Peyton about his feelings in an uneven episode of iZombie.