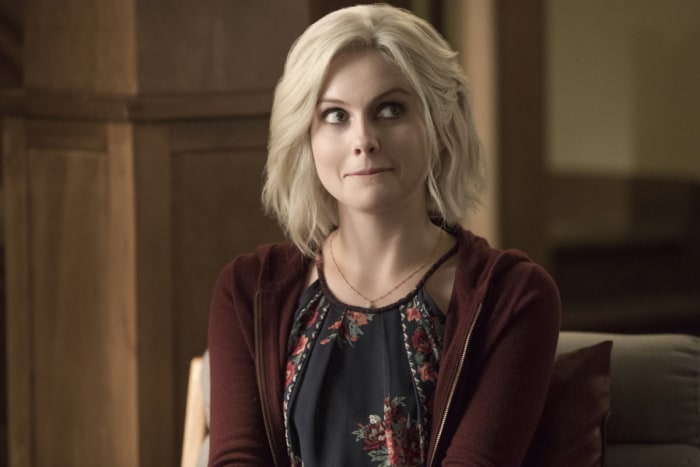 After last week's underwhelming installment, iZombie rebounds nicely with tonight's stellar episode, an hour that blends and balances all of the main characters' stories together in a way that "Eat, Pray, Liv" failed to do. Like last Tuesday's episode, there's a lot going in "Wag the Tongue Slowly," from Liv and Clive pursuing new suspects for the murders of Wally and his family to Major doing his best to rescue Natalie to Peyton and Blaine continuing to grow closer. However, unlike "Eat, Pray, Liv," which sidelined characters like Liv and Clive in order to give Ravi, Peyton, and Blaine more screen time, this week's iZombie uses its running time quite efficiently, providing enough room for the episodic stories to breathe while also pushing many of this season's more over-arching plots forward.
There are still some minor issues to be found in "Wag the Tongue Slowly," and they mainly have to do with how events unfold with the Ravi/Peyton/Blaine love triangle, which continues to be iZombie Season 3's sole weak spot. Thankfully, the show's writers (and its characters) don't let Ravi off the hook for his scummy behavior at the end of last week's episode, as Liv calls him out on just how misguided his actions were.
However, I do wish the series would hold Peyton more accountable for her actions as well. There's one scene in tonight's episode in which Liv tells her best friend that she may be losing sight of the "big picture" when it comes to Blaine and his amnesia, as she reminds Peyton that if the cure does return his memories, it means that Major can remain himself and that she has a chance to no longer be a zombie. It's a welcome moment that reinforces the actual stakes of the situation at hand, and it instills more depth to the storyline, serving as a refreshing break from the many scenes featuring Peyton and Blaine flirting with each other before they end up sleeping together again by episode's end.
While Peyton's attraction to Blaine makes sense, especially since it looks like he will continue to be this new, improved, memory-free version of himself for the rest of this life, her constant need to defend him and to take care of him (by letting him sleep on her and Liv's couch, for instance) still rings false to me. Sure, Peyton sees Blaine in a way that no other iZombie character does, but her devotion to him comes off not only as naivety but also as a form of betrayal to her friends like Liv and Major, who have experienced great pain and loss because of Blaine's past actions. Her behavior in Season 3, no matter what type of romantic feelings she has for Blaine, doesn't jive with the strong, independent, and compassionate Peyton that we've seen throughout the show's first two seasons, and that's one issue with this year's new batch of episodes that I just can't overlook.
But while the Peyton and Blaine material in Season 3 still leaves me frustrated, the same can't be said for the rest of what iZombie is doing this year. Virtually every other storyline outside of the love triangle has been superb, particularly what the writers have been doing with Major. While I initially feared that Major joining Fillmore-Graves' mercenaries would feel like a rehash of past seasons' stories, it has actually opened up a whole new, exciting avenue of storytelling possibilities, particularly when you tie in the risks of his new job with his depleting health.
It's not fully clear where Major and the rest of his Fillmore-Graves unit are at the end of "Wag Your Tongue Slowly," but it sure doesn't seem to be anywhere good. Major's captain warns all of his men about the "Kevlar bullets" that will be fired at them, but with his time on Earth running out anyway, will Major fear those bullets in the same way that his fellow mercenaries do? I doubt he will, and I hope iZombie explores whatever battleground Major and his friends find themselves on during next week's episode.
But this week's Major storyline has a lot less to do with his future with Fillmore-Graves and much more to do with his past as Max Rager's Chaos Killer, as he finally ties up the one loose end that has been nagging at him since the end of last season by finding out where Natalie is being held. While the scene between Major and Natalie is brief, it's still extremely powerful, especially as the camera focuses in on the wave of emotions that Natalie experiences once Major gives her the cure and then tells her about its side effects. This certainly isn't the type of fresh start that Natalie hoped to get for herself and Major obviously wishes he could do more for her, but at the moment, it's the best option she's got. The most tragic part of it, though, is that Natalie won't be able to remember that Major is the one who risked everything to give her a new lease on life; she'll forget him just as Blaine has forgotten his past, but as long as she is free, Major can find some type of solace, even if he knows they'll never see each other again.
And then there's Liv and Clive, who find themselves at the center of a prank-turned-murder in this week's iZombie. This new case forces Liv to consume the brain of an office gossiper, and while this brain doesn't lead to any major dramatic moments or revelations during the episode, it remains a consistent delight throughout the hour, thanks in large part Rose McIver's note-perfect performance. She delivers every line Liv has in tonight's iZombie, whether it's details about Peyton and Blaine's relationship or concerns over what's going on between the police captain and Cavanagh, with such gleeful excitement that it's almost contagious.
Furthermore, I appreciate that the resolution for this episode's case of the week is a little bit different than what we're used to. Instead of Clive and Liv catching one of their suspects in a lie or forcing the culprit to blurt out a heated confession, the two of them use their brains (and in Liv's case, I'm talking about her actual brain, not the one she eats) to figure out that all three of their suspects worked together on the prank that led to Cheryl's death. Changing things up, even in small ways like this, ensures that the case-of-the-week structure of iZombie will never get too stale.
But the case of the week isn't the most engrossing or important storyline that Liv and Clive are wrapped up in during "Wag Your Tongue Slowly." In the background of the episode, the two of them continue to investigate the murders of Wally and his mother and uncle, and when Liv finds a suspect that owns a shooting range that offers a "zombie apocalypse special," they think they have their killer.
It turns out that Harley Jahns isn't the person who murdered Wally and his family; however, that doesn't stop him from being dangerous, especially since he knows the truth about zombies from his brother, Dave, who was one of the victims of the Max Rager Massacre (he was the scientist whose hand Liv and Major chopped off so they could get through security). As Harley tells Liv and Clive in the final words of the episode, he doesn't view killing zombies as murder because you can't kill someone that's not alive. To him, and so many others like him, this is a cut-and-dry issue;  they will never hear out the other side, the side that can and will try to explain that zombies aren't so different from normal, living, breathing humans. There's a fiery hatred that exists inside people like Harley and others that post on the message board, and that type of loathing, along with their refusal to listen and reason with the other side, is more terrifying and more deadly than any type of bullet.
Other thoughts:
My two favorite comic-book-styled title cards from this week's episode: "Now You Serum, Now You Don't" and "Mission: Responsible."
I don't have a full list of the names for all of Rhonda's porn films that Ravi lists, but his excitement over all of them, including the ridiculously titled Hump Me Deadly, is hilarious. He's a man that really takes his work seriously.
"And we know you're good at waiting in cars." Was this line from Major to Ravi funny, mean, or the perfect combination of the two? I still haven't decided.
iZombie has always been fantastic when it comes to selecting songs for particular scenes ("One Day More," anyone?), but the creative team may have outdone themselves tonight by using "I, Don Quixote" from Man of La Mancha for the scene in which Major runs up to Natalie's room.
"I will juice you like an orange, my friend." Liv's reaction to the second big binder that Clive gives her is just wonderful.
"Bone-Her. No doubt part of the Criterion Hardcore Collection."
What did everyone else think about this week's episode of iZombie? Comment below and let me know. 
[Photo via The CW]
iZombie Season 3 Episode 4 Review: "Wag the Tongue Slowly"
Summary
Liv eats the brain of an office gossiper, and Major tries to rescue Natalie in a stellar episode of iZombie.