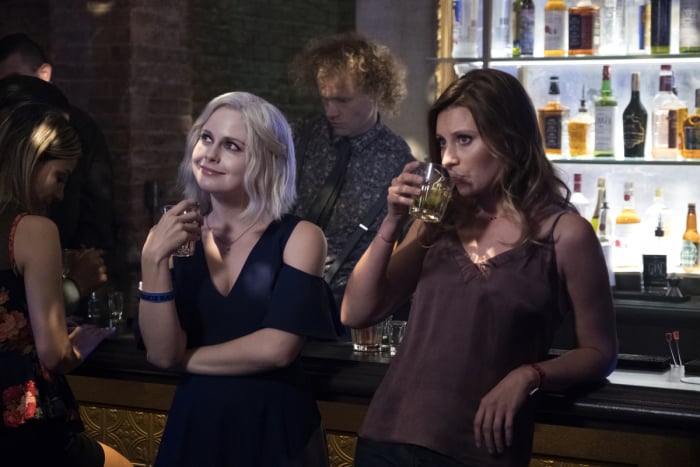 "Brainless in Seattle, Part 1" is the first truly great episode of iZombie Season 4. It's an hour that illustrates just how unique of a TV series this show really is, as it deftly balances drama, humor, and even horror. "Brainless in Seattle, Part 1" proves yet again that you can't box iZombie into just one genre, and I'm so glad that you can't. This is a show that excels at so many things, and I would never want to take away any of those aspects from the series. iZombie's ability to swiftly move from laugh-out-loud comedy to heartbreaking drama to bone-chilling thrills is what makes it one of the most special shows on television right now, and since its first season, it has been able to consistently strike that pitch-perfect balance time and time again.
The humor, heartbreak, and horror of "Brainless in Seattle, Part 1" all stem from one main source: the hopeless romantic brain that Liv eats this week. That brain belonged to Annie, a Kansas resident who paid a Seattle coyote named Bruce to help her sneak across the border so that she could be with her online love, Alan. As we find out at the end of the episode, thanks to both Mama Leone's knowledge and Liv's vision, Bruce belongs to a group of traffickers that isn't interested in helping humans or zombies; what they like to do instead is harvest these individuals' brains and other organs or even hold these people ransom so that their families will pay big money. Bruce, though, appears to be even more sinister. Given the remains that Liv and Clive discover in the incinerator during the hour's final moments, it looks like Bruce is a serial killer, a person who has harmed innocent people like Annie over and over again.
And that's really where the heartbreaking nature of "Brainless in Seattle, Part 1" lies, because these restrictions imposed by the government, which force the residents of Seattle inside the city's borders and keep all others (including some of their loved ones) out, create desperation, and evil people prey upon that desperation and take advantage of it. Obviously, iZombie isn't being subtle about the parallels it's drawing between the New Seattle situation and the real-world refugee crises we see today; however, even if the series is lacking restraint, that doesn't mean it's not being effective. In fact, when it comes to humanizing the bigger problems that zombies and humans connected with zombies face on a day-to-day basis, iZombie Season 4 has done a better job than any of the previous seasons that have come before it. With tragic stories like Annie's or the chef's sick son in last week's episode, I find myself empathizing with the entire population of New Seattle, which also feels more like a real city this season, even though it's essentially in full lock-down mode all the time.
But there's also the horror element of what Bruce and others are doing, and that's emphasized even more so by Blaine's murderous actions. When Chase Graves offers to let Blaine run his businesses without any interference in exchange for intel on the Seattle coyote known as Renegade (aka Mama Leone), Seattle's most notorious criminal goes to extreme lengths to obtain information. He has his brain dealer bring him Anthony, a zombie who was turned by Renegade because he had Parkinson's Disease, and when Blaine realizes that he won't be able to simply interrogate Anthony, he gives him a doze of the cure (which we now know that he or Don E. definitively stole last season), bashes his skull open, and eats his brain, hoping whatever visions he has will help him track down and identify Renegade. It's a brutal, bloody scene, and it reaffirms that, no matter how charming Blaine tries to act, he will always be the same ruthless villain we met in Season 1. It also shows just how dangerous this version of New Seattle is, especially for anyone who tries to bend Chase Graves' rules regarding the border. Anyone who's a member of the Darwin Project, which Chase sets his sights on midway through the hour, better watch out.
However, despite all of this more emotionally heavy material, it's the comedy in "Brainless in Seattle" that really shines. The episode gets its title from the Tom Hanks/Meg Ryan film, and it leans heavily into the rom-com cliches to terrific comedic effect. Liv falls for multiple guys with just once look, each one set to Savage Garden's "Truly, Madly, Deeply"; she and Peyton give Ravi a full makeover during one of the flat-out funniest sequences iZombie has ever done; and the three of them even dance crazily together on the Scratching Post dance floor to "Space Jam." It's one of Rose McIver's best performances yet (and that's saying a lot), as she nails even the smaller, throwaway bits, such as trying to set up Clive with a new co-worker and drunkenly telling Peyton that "human/zombie relationships can work. Look at Blive and Cozzio!"
The best part about this week's hopeless romantic brain, though, is that it never fully overtakes Liv like the past two episodes' brains have. When our empathetic, determined, and resilient Liv Moore needs to step up and help Clive with the case, she's there, doing her best to reach out to Mama Leone and pointing them in the direction of the fateful incinerator. As I said in my opening paragraph, it's all about balance, and that's what makes "Brainless in Seattle, Part 1" such a superb episode. No one element ever overtakes another, and despite how busy of an hour it is, it never loses focus on the series' most important strength: its characters.
Other thoughts:
Since I know iZombie wouldn't actually have Bozzio cheat on Clive, it looks like the two of them have come to some type of arrangement that I'm sure we'll learn more about in next week's episode (part two of this two-parter). I still really don't like this idea, but as long as it keeps Jessica Harmon on the show and Clive and Bozzio together in some capacity, I'll be grateful.
Major informs Chase Graves about Jordan scratching the human from last week's episode, and while Chase doesn't seem to care too much about the legal proceedings that will follow, essentially telling Major "good luck" with it, he is adamant that the video of Jordan not be released. I'm curious if we'll see Major trying to track down the video in next week's episode and if he'll make Jordan assist him, since she's technically responsible for creating this whole problem.
Ravi and Peyton are definitely going to get back together this season. Did you see how she looked at him at The Scratching Post? Plus, Derek is a bore. It's happening, you guys, and it's happening soon.
As a big romantic comedy fan myself, I was a sucker for all the Bridget Jones' Diary references in this episode. Remember guys: be Mark Darcy, not Daniel Cleaver.
I will also never tire of Liv's ridiculous interactions with the police sketch artist, Jimmy. Somehow, some way, the iZombie writers keep making them funnier.
"Ready to have your minds blown? Sorry scratch that." Liv and Ravi's reactions to Clive in this scene are perfect.
"Wanna open a tab?" "Blaine lets us drink here for free."
"Was that a vision?" "Yes he is."
"The best jokes are the ones you have to explain."
What did everyone else think about this week's episode of iZombie? Comment below and let me know.
[Photo credit: Michael Courtney/The CW]
iZombie Season 4 Episode 3 Review: "Brainless in Seattle, Part 1"
Summary
Liv eats the brain of a hopeless romantic, and she and Clive make a ghastly discovery in a great episode of iZombie.