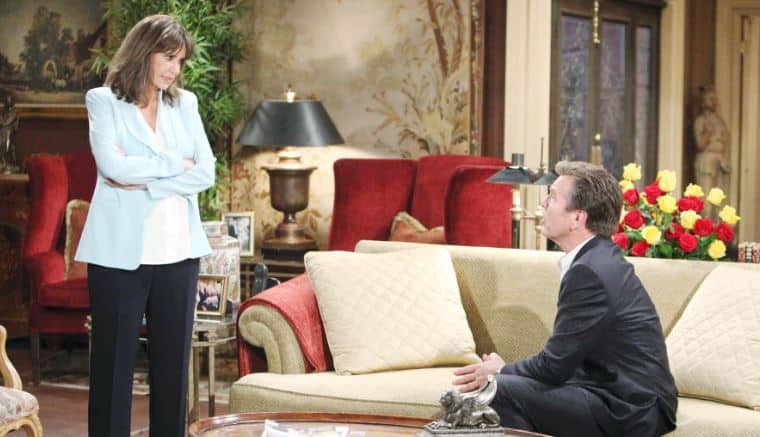 Young and the Restless fans aren't going to stop wondering what is happening with Nikki and Sharon. They clearly saw JT alive and well, and their panic and their upset are going to cause some serious drama. They were a mess yesterday, and we are almost positive they will not come to a good conclusion about anything at all at any point at the moment. They have serious issues with which to deal, and that means they have to do things they might not want to do otherwise. At the moment, they have to do thing that they don't want to do. They are still facing decisions they have to make, and they are panicking. He's obviously alive, and that means he's going to want some serious revenge on them, and they can't handle this. But they aren't the only once with life situations going on right now. They have other things to worry about, too. And that is one of those things.
We know that Kyle did something pretty bad, and no one is happy about it. He dug up Phillip's body from his grave, and things aren't good for him now that he's been caught. He's been arrested for this, and he's got very little hope right now. He's in a situation he cannot control, but we all saw this coming in the meantime. Neil is also going to go out of his way to see if he can make Ashley happy, but we don't think that she can give him what he wants. All this happened in the past day, and we can't handle how much it will change things in the future. The fact that JT is alive and well means things will change tremendously for those who had so much going for them.
What's Happening on the Young and the Restless
I love the Jack/Summer scenes. Even though they are not bio related, they still have a believable and natural close relationship. I enjoy it! #YR @malyoung @YRInsider @YandR_CBS @HunterHaleyKing #PeterBergman

— Judy (@carlyandjack) July 9, 2018
Some things never change, and that's a good thing. Fans loved getting to see the scenes between Jack and Summer. They're not technically family in any way biologically, but there is nothing short of a close and very familial relationship between them that makes us all feel good. They're both spectacular, and we really do love what they each bring to the table. We can't ask for a better set than these two and their clear respect for one another. We agree with the other fans — it's all good stuff.
What's Next on the Young and the Restless
Nikki and Sharon spin out of control today on #YR. pic.twitter.com/dwo9vJh5Wh

— Young and Restless (@YandR_CBS) July 9, 2018
Billy is not in a good place. He's been making mistake after mistake thanks to the influence Summer has had on him, and he knows better. Now he's got a gambling situation to deal with, but he also has to cover for her. She is his girlfriend's daughter, and he's spending entirely too much time with her. Now he has to cover for her or else they will both end up in serious trouble, and that's not going to play well for Phyllis. Thankfully, she's about to have some life problems that are basically a lot worse than she can ever imagine, and it might take the heat off of Billy for the moment.
And then there is the fact that we are about to see Jack make a promise to Cane. We have to wonder if it will be a peaceful promise to leave him and his family alone once he finds out the truth of who his father really is, or if it's more of a sinister promise in which he tells him that he will take him down, take it all from the family, and take over the role he was obviously meant to have if Phillip Chancellor only knew that he was his son. We don't know, but we think that the promise he makes will be one that has a lot of effect on Cane and his family, and we are curious how this will make things work for him. Could it be as ugly as we think?
Stay tuned for more Young and the Restless and be sure to check out TVOvermind daily for the latest Young and the Restless spoilers, news, and updates.