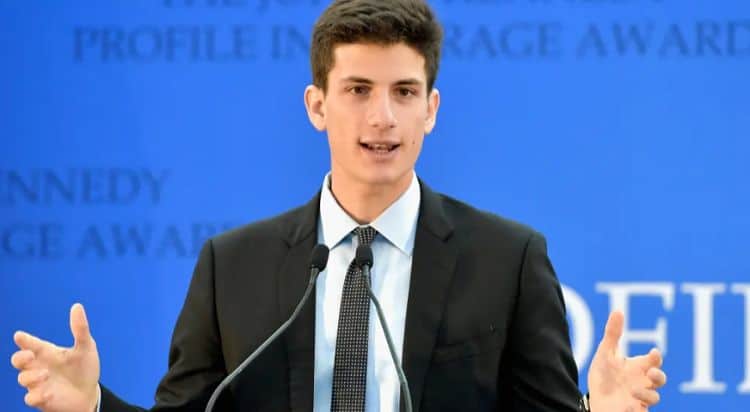 In the world of American politics, the Kennedy family is nothing short of royalty. For several generations, the Kennedy family has had a history of civil service in various areas of the government. Although some thought the family's political activity was slowly winding down, that doesn't look like it's going to be the case thanks to Jack Schlossberg. The 27-year-old ivy league grad is the son of Edwin Schlossberg and Caroline Kennedy. This makes Jack the grandson of the former president, John F. Kenned and his only living male descendent. Although he's still young –especially as far as politics are concerned– Jack is already showing that he could have a bright future in the political world. Continue reading for 10 things you didn't know about Jack Schlossberg.
1. He Has A Crush On Kendall Jenner
The Kennedys may be one of the most well-known names in politics, but the Kardashian/Jenner crew definitely have the reality TV and socialite game on lock. Apparently, not even Jack Schlossberg can resist their charm. In the spring of 2019, several sources reported that Jack had a crush on Kendall Jenner. Jack has never confirmed or denied the rumors, but they definitely had the internet buzzing. Even if nothing ever comes from this so-called crush, the Kennedys and Kardashians already have an interesting connection. Kim Kardashian paid nearly $400,000 for a Cartier watch once owned by Jack's grandmother, Jackie Kennedy.
2. He Admires Barack Obama
Like the rest of his family, Jack is a proud member of the democratic party and has expressed his great admiration for former president, Barack Obama. He says that Obama was actually very instrumental in getting him to want to become more active in what goes in on the world. He told USA Today, "Without Barack Obama, I might still be sitting on my couch, eating Doritos and watching sports…"
3. He Speaks Japanese
Jack has a deep appreciation for Japanese culture and even pursued Japanese studies during his time at Yale. He also spent time living in Japan while his mother was there working as the United States Ambassador to Japan. as a result of his studies and his time in Japan, Jack learned how to speak the language.
4. He's Avoided The Spotlight For Many Years
If you haven't really heard much about Jack Schlossberg until now, you're probably not alone. For most of his life, Jack avoided the spotlight and didn't take any interviews. It wasn't until 2017 that he really started to make public appearances alongside his mother. More recently, he has continue to get more involved in building a relationship with the public.
5. He Has Spoken Out On Climate Change
Jack is definitely following in the footsteps of many of the Kennedys who came before him. He has become involved in several causes, and climate change is at the forefront. He says, "With climate change, the younger you are, the more urgent the problem seems, the greater the stakes are, and the more frustrating inaction is. You don't need to be young to know what the cause is: greenhouse gas emissions. Or that we already have the solution: energy policy."
6. He Is Studying Law
Jack is currently in a join law/MBA program at Harvard University, but he isn't entirely sure what he plans to do with his degree. Jack says, "I came into law school thinking I really wanted to practice environmental law, and so far my favorite class is in property, which is something I never would have expected…I'll always be interested in climate issues, but my idea of what I want to do will probably change."
7. He Wants To Carve His Own Path
Jack has big shoes to fill, but he isn't looking at it that way. Although he is very proud of his family's legacy and everything they've done for the country, he hopes to build his own legacy. But even in the process of doing his own thing, there's a good chance he will ultimately end up following the in the family's foot steps.
8. He Was Named After His Grandfather
Although most people know him by Jack, his first name is actually John in honor of his grandfather. In fact, his name follows the tradition of many other names in the Kennedy family. His full name is John Bouvier Kennedy "Jack" Schlossberg. The name also pays tribute to his late grandmother, Jackie, whose maiden name was Bouvier.
9. He Loves The Outdoors
Spending time outdoors has been a favorite pastime in the Kennedy family for generations. They have been known to enjoy boating, swimming, and running, and Jack has definitely taken after the family in this way. Although he's still busy with his law school studies, he enjoys getting out and enjoying the fresh air whenever he can.
10. He Was In An Episode Of Blue Bloods
Jack may not have any plans to pursue a career in acting, but he already has some experience if he ever decides to. In 2018, he appeared on the season 8 finale of Blue Bloods as a police officer named Jack Hammer. Although the role was small, it was a dream come true for Jack who is a big fan of the show.