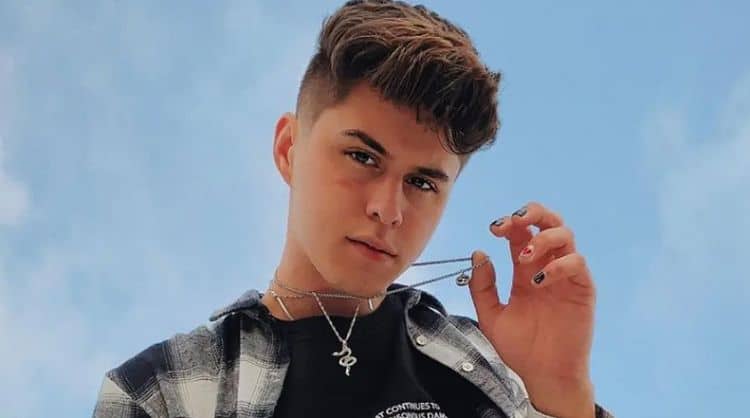 If there's one person who's living their best life, it's Jackson Krecioch. The 22-year-old social media star has built a massive follow across multiple social media platforms, and his numbers just keep on going up. On TikTok alone, he has nearly 3 million followers. As an openly gay influencer, Jackson has inspired authors to live their truths, and he's proud of who he is. He is well-known for dancing and making other collaborative videos with his friends. Influencer culture often comes with a negative connotation, but Jackson is showing that these platforms can be used to spread positivity and self love. Continue reading for 10 things you didn't know about Jackson Krecioch.
1. Coming To His Family Was Smooth
Lots of people in the LGBT community struggle with opening up about their sexuality. However, Jackson's experience was very positive. In fact, his mother knew before he even said anything. He told Celeb Mix, "I never had to come out to my family, my mom asked if I was gay and at that time I was 17, I was like 'yeah'. She just asked and I was at a point where I was like 'yeah', I'm not going to hide it anymore, so I was pretty lucky. I was out to everybody in my hometown, before I even started social media and then I had a second coming out six or seven months later on social media."
2. He Supports Social Justice Initiatives
As a member of a marginalized community, Jackson understands what it's like to be judged and discriminated against. As a result, he has been very vocal about his stance on social justice issues. Recently, he has shown his support for the Black Lives Matter movement and he has shared information and resources with his followers.
3. He Likes To Draw
Long before social media came along, Jackson was passionate about art. He grew up watching his siblings draw and paint, and he eventually learned himself. He enjoys drawing when he gets the chance and it has become a great way to him to relax and take his mind off things.
4. He's Working On New Music
It's becoming more and more common for social media influencers to use their platforms to promote their other interests. In 2018, Jackson started releasing music and his fans really loved it. The good news is he is currently working on new music that he hopes to release soon.
5. He Doesn't Let The Hate Comments Bother Him
Having millions of followers on social media means that there are millions of people who feel like they have a right to comment on everything you do. This is something Jackson has had to get used to dealing with over the years. Luckily, he has learned not to let the hate get to him. He says that his strategy for dealing with negative comments is to simply block the people who leave them.
6. His Father Passed Away
In 2013, Jackson suffered a tragic loss when his father passed away at just 52-years-old. Apparently, his father had been in an accident which caused a serious brain injury. Dealing with the grief wasn't easy, but Jackson was able to get through by reminding himself that he still had things to be thankful for.
7. He's Struggled With Insecurities
Many people assume that Jackson is full of confidence because of the way he posts on social media. Plus, getting love and attention from millions of people probably feels pretty good. However, confidence is actually something that he's always struggled with and he's battled with lots of insecurities.
8. He Has Veneers
Jackson's teeth were one of the biggest things he was insecure about. He also felt that getting braces would only make him feel more insecure, so he decided to get veneers instead. Since getting his teeth done, he seems to feel much more confident about his smile.
9. He's Been Overwhelmed By Social Media
Being a social media influencer seems like the ideal job, but it's not always as fun and easy as it looks. While it certainly has its perks, having millions of people watch your every move can be stressful. Jackson went through a period where he felt his followers were being extra critical of him and it resulted in him wanting to step away from social media for a little while.
10. He Comes From A Big Family
Jackson isn't the type of influencer who shares a lot of information about his personal life. He likes to keep all his content focused on his brand. But we do know that he comes from a big family. He is one of 8 children. He has 3 older brothers, three younger brothers, and one younger sister.