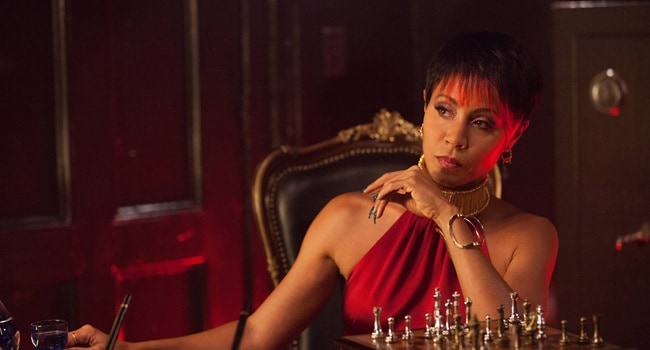 Remember in the Season One finale of FOX's Gotham when The Penguin and Fish Mooney had their final battle where he pushed her off the roof, supposedly killing her? So did we, but because it's a comic book show, dead isn't always dead.
TVLine revealed today that Jada Pinkett Smith, who was the big bad for Season 1 of Gotham, will be returning to the series for multiple episodes. While FOX didn't give any further details to TVLine about her return, we can assume that it has something to do with Indian Hill which was introduced in the first half of Season 2.
In the winter finale, there is a moment at Indian Hill where we saw Fish's body inside of a tank of water from the back, hinting that her time on the show wasn't over quite yet. But nothing had been confirmed until today and the one thing that remains to be answered is how she is still alive. Given that she is going to be back for multiple episodes, it's obvious that she and Penguin will be meeting again in some capacity.
Indian Hill was introduced back in Season 2A as a secret division (from Wayne Enterprises) that was performing mysterious and brutal experiments to turn people into super-humans. One character that is connected with this and is in charge of it, is Professor Hugo Strange (who will be played by B.D. Wong) who will be introduced in the second half of the season.
Gotham kicks off Season 2B on Monday, February 29, 8/7c on FOX. In the meantime: are you excited to see Jada Pinkett Smith return to Gotham as Fish Mooney? What do you think her role in this is going to be like? How did she survive? Let us know your thoughts and theories in the comments below!
[Photo: FOX]