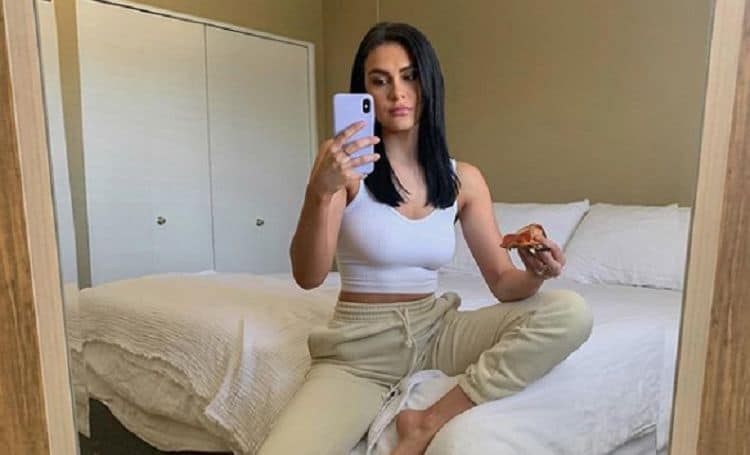 If at first, you do not succeed, then you must keep trying, and that is what Jade Gilliland did by applying to be on "The Bachelor." After only four months of divorce, the 26-year-old was ready to move on with Peter Weber. However, it was not going to be that easy; she had to ensure she was the last woman standing among the 30 who made it to the final cast. The flight attendant has tried keeping her life under wraps, but we have managed to unearth a few facts about her that we share below.
1. Her ex-husband's family does not support her being on the reality show
The minute that Jade went on "The Bachelor," her ex-husband's family went to social media to express their frustrations on her decision. Her ex-sister in law claimed that Jade walked out of her marriage because she wanted to experience the life she had missed out in her twenties. According to the former in-law, Jade also cheated on Mike and lied that she was staying at a friend's house while she was actually at Las Vegas. She posted one picture showing how Jade's pose with a man was out of character for a married woman since, at the time, she was still legally married.
2. She was a fan of "The Bachelor."
Some actors have admitted that they never bothered watching a show for which they later auditioned for while others were determined to be on a series so much that they gathered everything about it. Jade is a fan of the show, and her ex-husband confessed that they both enjoyed watching it before she was picked to be a contestant.
3. She moves on very fast
Everyone has a different timeframe to heal a broken heart, although, in the case of Jade, she was not heartbroken since she is the one who walked out of the marriage. Jade's divorce was finalized, and within four months, she was already on her way to looking for the next man with whom to share her life. Her ex-husband, however, does not harbor any ill feelings towards her for leaving him and going to search for love on reality television. Matter of fact is Mike admitted to The Sun that he might even catch up on a few episodes.
4. Why she got married
Marriage is not a necessity, but it all depends on one's background. Jade was raised in the Mormon religion; they believe that God officiated the first wedding. Those who profess the faith are under pressure to get married, and Jade gave in at only 22. Of course, by then, she was still very young to make informed decisions, so Jade later realized that she and Mike had very little in common hence she filed for divorce. Jade now knows what to look for in her next life partner as per the bio on ABC. Considering that the Mormon culture does not approve of birth control, it is a surprise that she is yet to have children after years of marriage.
5. She hopes to be a pilot
Jade is not settling for things as they are currently. She is a flight attendant working for Allegiance Airlines but does not want to be serving drinks on the plane all her life. Instead, she wants to be in the cockpit, thus is pursuing a private pilot license. The contestant is, however, ironically afraid of heights.
6. She was sent home on the first night
Peter Weber's parents have quite a romantic story, and that is what "The Bachelor" producers were trying to replicate when they cast a few flight attendants. His mother was a flight attendant while his father was a pilot, and perhaps the producers thought it would be an extraordinary story that runs in the family. However, Peter was not ready to go down the same route as his parents. Therefore Jade, along with two the flight attendants, Eunice and Megan, were the first to be sent packing.
7. Her favorites
For anyone planning on surprising Jade with a trip abroad, then booking a flight to Paris should be top of your list since it is her dream destination. Also, if you want to buy her anything, ensure that it comes in pink or black. You should also remind her to pack a book or a collection of her favorite music since she loves reading and listening to music in her spare time. When lunchtime comes, anything Italian will do, accompanied by a salad, according to Dreshare.
8. She appreciates her privacy
In a world where people will take pictures of themselves d to share with strangers, Jade is not ready to let others into her life. She, therefore, keeps her social media accounts private. Additionally, even when she talks about herself, rarely does she divulge information about her family or past. It is still a mystery if she has siblings, where she went to school, or the names of her parents.
9. She tried starting a fashion blog
Jade's ex-husband disclosed that Jade wanted to become famous before when she launched a fashion blog. Mike said that he had been supportive of her endeavors, but unfortunately, their efforts went down the drain. Her claims about a fashion blog were stamped by Mike's sister, who took to Instagram to slam Jade. She said that Jade was a failed fashion blogger whose attempt at being famous did not follow through when only a few followers were increased in her blog. Jade gives up quickly because when she did not get as many followers as expected, she quit.
10. She can be naughty
Jade does not shy away from revealing her naughty side. Other contestants made their grand entrances in angel wings, announcements on PA systems and another carrying a painting, Jade, on the other hand, grabbed Peter's buttocks. However, it was not shown during the premiere. Maybe that is another thing that drove a wedge between Peter and her. It is not the first time to have her cheekiness on social media; one photo posted by Mike's sibling shows a man grabbing her buttocks.