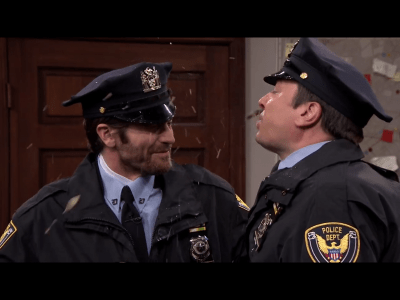 Often the best sketches on The Tonight Show are when Jimmy is not only welcome to break, but breaking is encouraged by the running gag of spitting food or liquids onto the face of whoever his lucky guest happens to be.
After tonight's guest Jake Gyllenhaal spoke to Jimmy about his new film Demolition and all the failed auditions leading up to this point in his career, the two started to reminisce about their time on their "hit show" from the 80s, Point Pleasant Police Department. According to Gyllenhaal, this was the "most intense" role of his life.
Coffee and saltine crackers are spit all over each other's faces as they talk and try to outdo each other with the really intense "in your face" competition to see who can alliterate better with the letter P. The second segment got even messier when Jimmy completely loses it after projectile spitting a milkshake onto Jake. It all boils down to prosecco versus Powerade.
By the time of the third faux flashback segment, there's no dialogue because it was airing during the writers' strike. Just goes to show how important writers are in Hollywood! Without them, we'd have more cop shows like this with the stars of the show pouring milkshakes on each other.
Watch the messy fun for yourself here:
Other memorable guests who've joined Fallon in the Point Pleasant Police Department sketches are Bill Hader and Alec Baldwin. If you missed those sketches, check them out here:
And then there was Jon Hamm's co-starring role in Palisades Park Pet Patrol.
I can only hope we get a Point Pleasant Police Department and Palisades Park Pet Patrol reunion crossover event with all these funny people together. Preferably not during another writers' strike!
Demolition starring Jake Gyllenhaal and Naomi Watts is released in theaters April 8.