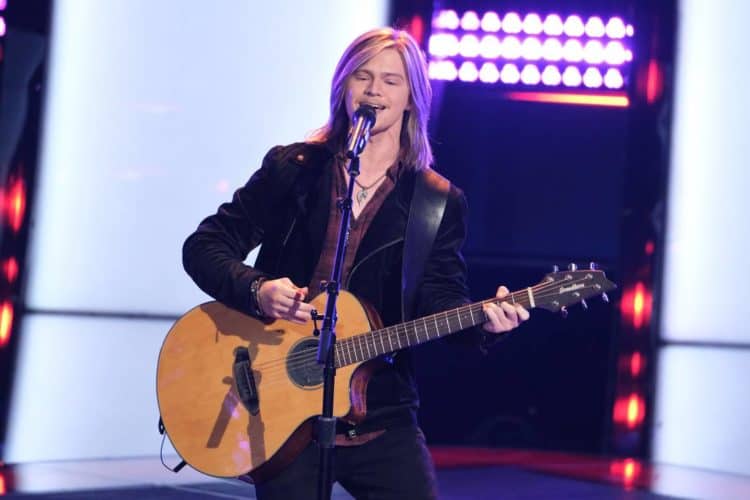 After Adam Levine departed The Voice, many of us thought that we'd stop following the show. However, there's something about the raw talent that comes across on that stage that just keeps making us come back for more. This year, one of our favorites is definitely Jake HaldenVang. There's something so rich and full about this guy's talent; he's one to keep an eye on for the rest of the show. After surviving the Knockouts round against Caroline Reilly, many people have wondered who Jake HaldenVang is. Here are 10 things you should know about this up and coming musician from The Voice.
1. Riverside
Jake was born and raised in Riverside, California in 1995. Seeing and hearing him for the first time on-stage during his blind auditions, you could definitely feel California vibes emanating from him. He was cool and collected, yet he emanated such passion from his voice that it was infectious. Being 24 years of age, he falls in the middle between some of the younger contestants and some of the older ones. Even so, he's managed to stand out from the rest easily enough.
2. Family
To say that Jake grew up around music is an understatement. It's true that he's had a penchant for music ever since he was little, and that is pretty easy to explain. Jake's father, John HaldenVang, was a musician himself. In fact, he belonged to and played guitar for a band called The Raisin' Cain Band. The band was based out of North Carolina, and their sound is a combination of rock, funk, and blues. The band hasn't had a tour since 2014, but they remain fairly active in the local scene to this day.
3. North Carolina
After spending quite a bit of time in Riverside, Jake eventually moved down to North Carolina in his early teens. Considering that this was where his father's band began to form, you can imagine that this was also where Jake got majority of his music education–particularly his guitar education. It would be difficult to find Jake on stage without his guitar today, which is a characteristic he inherited from his father.
4. Guitars
Jake was only 12 years old when he bought his first guitar. He saved up his own money however he could at the time in order to buy his first strings. He got enough exposure to guitar playing from his dad and his life in the band; and before long, Jake was playing just as good. The truth was he was just naturally gifted at playing. By the time he was 13 years old, he was representing his city–Charlotte, North Carolina–in the 2009 International Blues Challenge. That's certainly a feat for someone who had only been playing guitar full-time for about a year, let alone a teenager.
5. Bands
Inspired by his time at the International Blues Challenge in 2009, Jake came back home with a sense of direction. He started two bands, Halden Vang and the Jake HaldenVang Band. They became a household name in clubs and various parties in the local scene. Jake performed hundreds of songs alongside his band, and many of their songs and covers could actually be found on their YouTube channel. His Halden Vang band is actually an award-winning band, after receiving the Queen City Music Award.
6. Drums
Aside from being a gifted guitar player, Jake also happens to be a talented drummer. It seems that when music courses through your veins, there's really no limit as to what you can do. Add guitar playing and drumming to his singing, and Jake could really be the ultimate one-man band. We haven't heard much of his drumming on TV today, but we can only imagine that it's only a matter of time before he shows the world those talents too.
7. Lemonade stand
There's a lesson to be learned on this bit about Jake's life. When you want something bad enough, you're going to do what it takes to get it. In order to get his first guitar, Jake saved up his money–this we now know. However, not many people know that he actually had a lemonade stand at the time. He worked on the stand and saved up his profits in order to buy himself the guitar of his dreams at the time. When he started touring, he was only 13 years old and doing 200 shows every year. That's a commitment that not even many adults have.
8. Gwen
During his blind auditions, Jake got a four-chair turn. We all know that getting four chairs is an honor that not many performers get. However, listening to Jake leaves no room for doubt. He deserved those four chairs like no other. While all the other judges pitched their bid to get Jake on their teams, Jake knew in his heart that he was going to pick Gwen right away. Jake claims that he's always been a fan of Gwen ever since he was little and that her music had a big influence in his life and family.
9. Humility
Even though Jake was gifted with such an amazing gift and despite the fact that he was already touring by the time he was 13, Jake never really flaunts his musical abilities. Most of the time, people walk by Jake not knowing what he's really capable of. His humility is unwavering even at the helm of fame. Most of the people he knows closely are cheering him on from far away and are admiring him of his accomplishments thus far.
10. EP
There's one more thing you can add to Jake's accolades: music producer. When he was 15 years old, Jake actually self-produced his very own EP, Tell the Truth.He hasn't stopped since and still actively pursues his success. We can only expect great things to come from Jake; and with The Voice as his stage, the only place to go is really up.