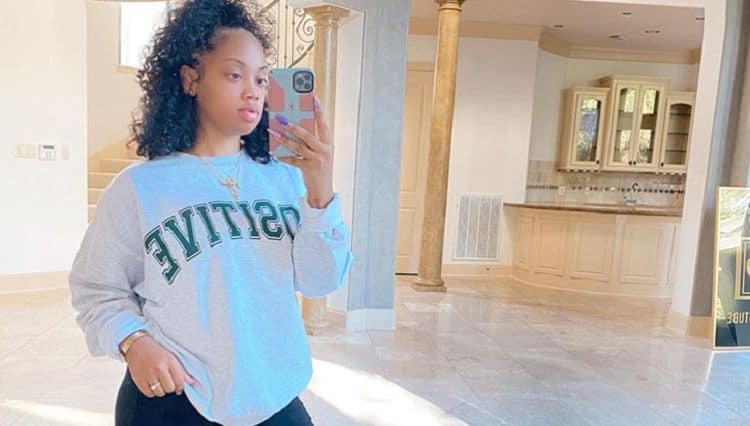 When YouTube first started, most people who posted videos on the platform probably didn't think anyone would ever see them. These days, however, many people post on YouTube with the singular goal of becoming popular on the platform. Jaliyah Monet is one of the lucky people who has been able to build a large following on YouTube that has also trickled over to Instagram. As one half of the channel, The MJ Family, Jaliyah has more than three million subscribers on YouTube and over two million followers on Instagram. She is popular for the prank videos she does with her boyfriend, Funny Mike, and her fans also love her style. Continue reading for 10 things you didn't know about Jaliyah Monet.
1. She Has Always Wanted To Be An Entertainer
Being an entertaining is something that Jaliyah has always dreamed of, and it's clear that she's chosen the right path. Anyone who has ever seen Jaliyah's content can tell that she's a natural at what she does. After all, she essentially built a large following simply by being herself.
2. She's A Rapper
Most people are familiar with Jaliyah because of the videos she's does with her boyfriend, but she is also a talented musician who is working hard to break into the music industry. In December 2019 she released the official music video for her song "Like Me". At the moment, the video has more than 7.8 million. She is hoping to get the song on iTunes and other streaming platforms and she will likely release more music in the future.
3. Her Father Is A Louisiana Legend
Jaliyah's father is Lee Lucas, a well-respected street legend in the Baton Rouge, Louisiana area. He is known to have been cool with several popular rappers from the area such as Lil Boosie and Kevin. Lee is currently serving a prison sentence and in 2019 Gates was seen visiting him.
4. She Likes To Cook
Food is a big part of the culture in Louisiana, so its no surprise that Jaliyah Monet can throw down in the kitchen. She loves to cook for her loved ones and sometimes she even turns her time in the kitchen into content for her YouTube channel or Instagram account.
5. She's Also Active On Twitter
YouTube and Instagram are where Jaliyah has the biggest following, but she's actually more active on Twitter than she is on Instagram. She has 160,000 followers on Twitter and has tweeted nearly 140,000 times. Like many other users on the platform, Jaliyah likes to tweet her thoughts in a somewhat diary-like fashion.
6. She Doesn't Like To Dwell On Negativity
Jaliyah isn't the kind of person who likes to let negative situations bring her down. Instead, she prefers to stay positive as much as she can and not dwell on things. In a Q&A video on her YouTube channel, she said that one of her favorite things about herself is that she doesn't dwell on things for long and knows how to move on when needed.
7. She Doesn't Have A Best Friend
Loyalty is one of the most important things to Jaliyah, so she is very careful of who she calls a friend – especially a best friend. After all, what could is a friend if you can't even really trust them? For that reason, she told viewers during her Q&A video that she doesn't have a best friend at the moment and hasn't had one in quite some time.
8. She's A Big Jhene Aiko Fan
Since the release of her debut mixtape, Souled Out, in 2014, Jhene Aiko has mesmerized countless people with her beautiful voice. Jaliyah is a big fan of Aiko's music and cites the the 2013 single "Drinking and Driving" as her favorite song. The song was released as part of a compilation album released by Solange Knowles titled Saint Heron.
9. She's Only 22
The success Jaliyah has had on social media is very impressive, but even more so when you consider the fact that she is only 22-years-old. If she keeps up at the pace she's currently moving, her numbers will only continue to grow. By the time she's 25, there's no telling how many things Jaliyah will have accomplished.
10. She Doesn't Plan On Having More Kids
Jaliyah is the proud mother of two young children – a boy and a girl. Balancing motherhood with all of the other things she has going on may not be easy all the time, but Jaliyah always finds ways to make things work. Although she knows things could change in the future, at the moment she doesn't plan on having any more children.