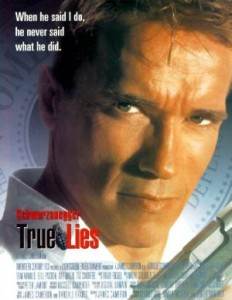 James Cameron looks like he wants to tackle the world of television again, now that he has more swagger on his back pocket.
According to an exclusive from Deadline.com, Mr. Cameron is shopping a TV version of True Lies to the networks, making it Cameron's second foray into TV after his previous effort, Dark Angel, was cancelled after two seasons on FOX back in the early 2000s.
The series premise has yet to be announced, but as a refresher for those unfortunate ones who have yet to see one of the greatest action comedies ever made, here is a premise of the movie, which starred Arnold Schwarzenegger, Jamie Lee Curtis, Tia Carrere, and Eliza Dushku. Harry Tasker (Schwarzenegger) is a family man who also doubled as a government spy unbeknownst to his adventure-seeking wife Helen (Curtis) and his rebellious daughter Dana (Dushku). When Harry's personal life mixes up with his spy life, the stakes are raised and the explosions get louder.
If brought to series, True Lies will be ran by Cameron and Rene Echevarria, who will serve as showrunner. Jon Landau and Rae Sanchini, both from Mr. Cameron's Lightstorm Studios, will also serve as executive producers. The show will come from Lightstorm and 20th Century Fox TV.
In a perfect world, True Lies would be a perfect fix with FOX and/or FX, where action is the name of the game. Can't you see a pairing up of True Lies and Human Target? I sure as heck can.
Or maybe Mr. Cameron wants to try another network since FOX's abrupt cancellation of Dark Angel in an attempt to make room for Joss Whedon's Firefly, leaving Dark Angel's conclusion up in the air.
Thoughts?