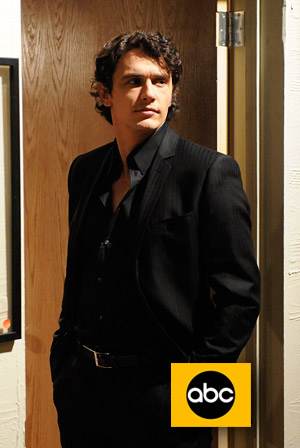 News broke a while ago that James Franco was going to be making a guest appearance on the long-running soap opera, General Hospital. I found this fun, because I watch GH (stop making fun of me…..I like some soaps). Apparently Franco had asked to appear on GH to experience the demanding shoot schedule of soap actors. I have a lot of respect for them. Do you know how difficult it would be to learn your lines and film for a show that airs every single day?
Franco will first appear in Port Charles on November 20 and will be some sort of nemesis of Jason Morgan.
Franco will also be appearing in 30 Rock. This guy is all over the map, but I like this move. Because it tells me two things: (1) Franco has range, which is always nice in an actor, and (2) he's not too prissy to appear on television, which many movie stars think will tarnish their celebrity image (and which some B-listers look down on despite the fact that they made their career on TV and can't land a decent movie to save their life). Thanks to EW, here are the details for the 30 Rock appearance:
Sources confirm to me exclusively that the Spider-Man/Milk actor will follow up his upcoming arc on General Hospital with a guest appearance on 30 Rock.

NBC declined to comment, but a Rock-solid insider tells me that Franco (playing himself) will be involved in a faux romance with Jane Krakowski's Jenna – a relationship engineered by their respective agents. Sound familiar? It's probably because this is the storyline Tina Fey floated by me at the Emmys way back in September.

'[Jenna gets] into a high-profile relationship with a movie star that is arranged by their agents,'Fey explained at the time (watch the video of our exchange below).

Franco is scheduled to start work on his Rock eppy this week.
Email me at clarissa @ tvovermind.com
Follow me at twitter.com/clarissa373