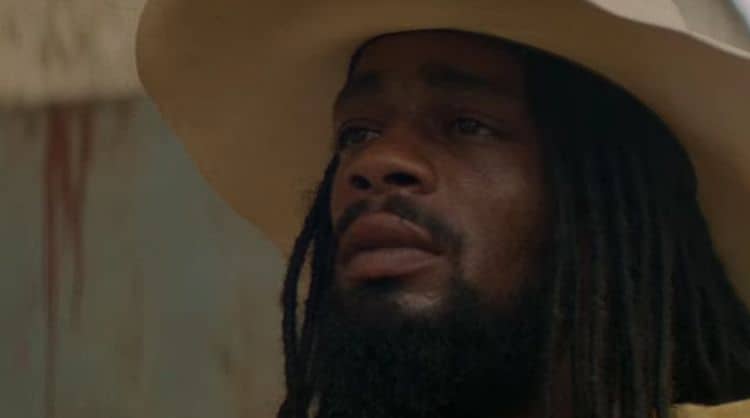 Netflix is bringing yet another amazing new concept to the television screens of people all over the world, and many people are looking to learn more about the new "Concrete Cowboy," as the movie premieres. It's about a kid who is sent from Detroit to live with his dad in Philly after he gets in trouble at school, and he struggles to do well making new friends and living in a new situation. In the movie, we get to meet Paris. He's a man who rides horses in Philly, and the character ends up befriending the kid who is struggling to make a new life for himself with his dad. The actor is Jamil Prattis. You don't know him because he's not an actor. He's a pro horseback rider, and fans want to know everything there is to know about him.
1. He's A Long-Time Horse Rider
For more than ten years, he's maintained his own horses. He's a street rider who belongs to a real riding club like the one in the movie. It's second nature for him to take on a role like this one being that he actually lives this life outside of this new job of his. Acting is not something he's done before, but we have a feeling you'd never know it.
2. He is Telling his Real Life Story
Part of his storyline in the movie is about his real-life story. He is going to spend some time telling his own story, and Jamil took advice from the director when it came to being open and honest and portraying real emotions. Since he's never acted professionally before, the director told him that he needed to just be honest about it. It's his real story, regardless, so being able to tell it with believable honesty was easy.
3. He Uses a Wheelchair
In the movie, Prattis' character sits in a wheelchair. However, fans want to know if he does the same in his everyday life or if it is just part of the character's history. It turns out, it is just a part of the story. The character and his brother end up in an altercation in which his injuries make it impossible for him to walk without a chair and his brother does not make it. However, Jamil Prattis did lose his brother in real life, which is why telling that part of the story is his real story.
4. He is Part of the Urban Cowboys
The movie focuses on a group of urban cowboys, and Prattis is one in real life. He saw them when he was only 12 riding through the streets of Philly, and he knew he had to be part of that life. So, he took it upon himself to make sure he was. He's now part of the Fletcher Street Stables, and he helps other horse owners keep their own stalls clean and in order.
5. He's Not Active on Social Media
While he does have an Instagram account, it features only two photos. One of himself on the back of a motorcycle on the streets of Philly with some friends, and the other of him with a horse. Both posted back in 2019. However, fans are looking him up and commenting on his work even though he doesn't use the platform.
6. He Goes By Mil
He might be Jamil, but it turns out he goes by Mil. It's his name when he's riding, and he even uses it on his social media profile. We have a feeling he might prefer Mil to Jamil, but we'd make sure it's not just a nickname that he only likes his friends and close family using first.
7. He Works Hard
Jamil Prattis is a man who loves to ride. He is up every morning and at the stables by 6:30 am to help clean and keep the horses brushed and cared for. It's how he pays for his own stall – helping other owners do their own hard work. It's his passion, and he loves to do it.
8. His Cousin Taught Him to Ride
He was only 11 when he began to have a curiosity about horses, and his cousin taught him to ride. It was a sweet moment in his life, and it's been powerful in turning him into the man he is now.
9. He's Very Private
Despite the fact that many of the stories told in the movie are his own, he is a man who doesn't share much about his personal life with anyone else. He keeps to himself. He shares with those he loves, and he does what brings him joy. He's not into sharing his life with a bunch of strangers.
10. He Keeps His Life on Track by Riding
He doesn't talk about it, but it seems like he managed to get himself into some trouble in life when he wasn't riding. He did say that he was a man who needed to ride to keep him in a good place. He's teaching his own kids to ride. He's teaching some of his nieces and nephews to ride. He hopes to stick around the stables for a long time so he can keep teaching.