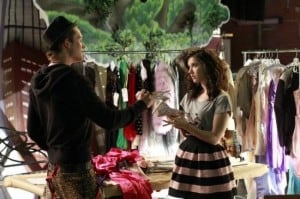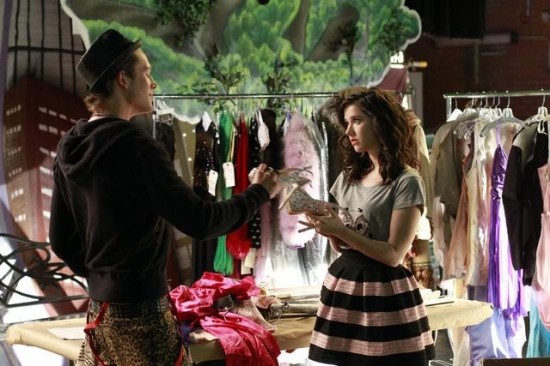 Jane by Design became the lone ABC Family cancellation of the summer on Friday, as the teen fashion dramedy had its run end after a short 18 episode first season. The news was more than a little disappointing, considering the open-ended nature of the finale and the series showing signs of putting it all together, but the end of the road doesn't mean that the speculation has to stop. Below I'll be running through some of the main plots from Jane by Design with where they left off and how I imagine them going in the never-was second season.
Jane and Billy
Where things left off: The best friends had grown apart during the summer season, thanks to new relationships, feelings that never lined up at the same time, and busy lives. Just as Jane was about to spill her guts to Billy about how he's the guy that she wanted to be with, not Eli, he "chose" to stay with his girlfriend Zoe and left the play with her in tow.
Where they would go: Ever since the pilot episode, you knew that Jane and Billy would get together eventually. They had too much chemistry and too much history for it to not happen, though it became a question of timing and willingness to change a dynamic that had worked for so long. I fully believe that somewhere/sometime in the Jane by Design universe, Jane and Billy will get together eventually and it will be a wonderful relationship that will be like their friendship on steroids. It may take until they're both a little more mature and emotionally ready, as well as several more significant others and false starts, but they'll find a way to give it a shot. It's too bad we never got to see that dynamic play out on screen.
Jane and her fashion career
Where things left off: Jane received a $5000 bonus from Donovan Decker for getting Jeremy to turn over the designs for the Harrods campaign, but Eli and Gray attended the school play and noticed that Jane had been in charge of the costumes. The three ran into one another backstage in the final shot of the series.
Where they would go: During the run of Jane by Design, Jane managed to get quite comfortable in her role as Gray's go-to girl and upstaged her more experienced colleagues on more than one occasions. But it was in the design field that I think Jane would excel in the future (and hypothetical future seasons of Jane by Design). We didn't get much chance to marvel at her skills, but the pieces that she did do were really strong and with her connections and drive, it's only a matter of time before she became an asset to a fashion house for something other than her gofer ability.
Jane, Ben, and Kate
Where things left off: Things started off pretty rocky for the three, since it had been Ben and Jane for so long that they didn't know how to live with an authority figure. However, they eventually smoothed over a lot of their emotional issues, with Kate leaving the household to "grow up" and give her relationship with fiancee Dakota a chance.
Where they would go: I don't believe that their relationship would have been 100% healed, though I do think that the next visit from Kate would have been much less tense than her visit in the summer season. However, a lot of the closure that came for the trio was predicated more on Kate having to leave in a hurry than hashing out anything that came from her abandonment of them, so I could see their issues popping up again in alt-Jane by Design. Ben, in particular, didn't get a lot of peace from Kate's return, having taken a while to just be able to be in the same room as his mother; but could his sojourn into the minor leagues, fulfilling a life dream, have made him understand Kate's need to roam?
Ben and Rita
Where things left off: The former high school classmates had started up a relationship during the season, but old insecurities and a severe case of miscommunication almost derailed something promising. After Ben came back from his stint in the minor league and poured his heart out to Rita, the guidance counselor decided to eschew taking it slow and planted a very public kiss on her boyfriend at the baseball field.
Where they would go: I always thought that Ben and Rita went well together. His goofiness makes her step out of her shell, her earnestness calms him down and makes him think about growing up a little bit. They seemed to have settled all of their major problems in the finale, with Ben choosing Rita over drama teacher (and former prom queen) Amanda Clark and Rita letting go of any fear that she had about how quickly their relationship was moving; therefore, I don't think there would be too much that could rock the boat here. Their difference in personality makes difficulties inherent in their relationship, but they kind of recommitted themselves to the idea of being together in the finale and I think that they learned about the value of talking to one another.
Jeremy, India, and the new career move
Where things left off: Jeremy had decided to leave Donovan Decker and start up a label of his own, having reunited with India, who came to London to be with him. The two wouldn't be mixing business with pleasure this time, however, with Jeremy strongly hinting that he would go after Jane to join his staff.
Where they would go: I don't know if Jeremy could get off the ground with Gray still in the fashion industry (and gunning for him after him being the mole), particularly if India managed to creep into his career after the two had decided to keep things separate. (Jane being hired would make this a fairly distinct possibility.) India has great instincts and is a shark, but she'd overwhelm Jeremy and likely take over the venture herself, driving her boyfriend out in the process. Without India interfering, Jeremy would (likely) do a small independent label that didn't pose a threat to Donovan Decker, provide himself with enough to live on, and retain his love for fashion in the process.
You can post your hopes and predictions for the characters of Jane by Design either in the comments below or on the TVOvermind Jane by Design discussion forum here.