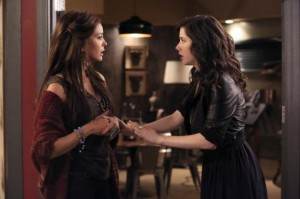 The return of Kate Quimby certainly shook things up on Jane by Design. The absentee mother of two, happily romping through one beautiful city after another, finally showed the contrition about leaving Ben and Jane that the two had hoped to see all this time. They only wanted to know why then, why did their mother have to leave them to fend for themselves and they got their answer, which is a major stepping stone toward forgiveness and a healed family unit. But could Kate potentially be leaving them once again? If she goes through with it, how will Ben and Jane react then? Will either of them be able to trust anyone again?
Listed below are the dates, initial airings, episode names, and episode descriptions for Jane by Design's next two episodes, which look to be heavy on love and the uncertainty that comes with it.
Tuesday, July 10
9:00 PM-10:00 PM EST
"The Online Date"
Love is in the air, but needs a little help to get going and Jane is determined to help her friends out. Billy is caught off guard when Zoe invites him to meet her parents and he isn't so sure he is ready to take that step. Kate, on the other hand, decides to help Gray take the next step with her love life by setting up an online dating profile for her. Mortified by her mother's actions, Jane must now try to put a stop to the online dating scheme before Gray finds out and fires her for sure. Meanwhile, Rita decides to finally fight for Ben – but is she up for taking on life-long mean girl Amanda?
Tuesday, July 17
9:00 PM-10:00 PM EST
"The Backup Dress"
Once in awhile people get a second chance and for the Quimby family they are getting them in spades. After a faux date with Eli for her birthday, Jane finally gets the opportunity to go on a real date, while Ben gets a second chance of a lifetime when a minor league baseball scout wants him to try out for a coveted spot. With Dakota's proposal hanging in the air, Kate must decide on if she should give marriage a second chance or will she allow her commitment issues to scare her off again. But if Kate says yes, what does that mean for Jane and Ben? Will their second chance with their mother be over with her heading back to Colorado for marital bliss? Meanwhile, Billy is having a hard time with Zoe and Nick's roles in the play. Is the past doomed to repeat itself?
Jane by Design airs Tuesdays at 9:00 on ABC Family. You can check out my review of the most recent episode here.
Do you think that Rita can overcome prom queen Amanda once and for all? Should Kate give her marriage another chance, even if it means leaving Jane and Ben again? How do you think Jane's real date goes?