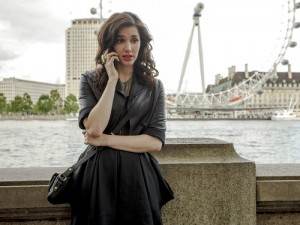 It's definitely been a mixed season for Jane Quimby. In the win column, she's gotten more comfortable at her job, she may have found a nice guy in Eli, and she's been home alone for quite some time after Ben and Kate left. However, there's still tension between her and Billy, Jeremy's not coming home, and the party of the year just came and went without her getting a chance to enjoy it. The finale of Jane by Design will be the deciding factor in if some of the poorer aspects of her life get resolved and if all the good things stay there.
The sneak peeks from the finale don't do a good job in pointing to whether Jane ends up in a better place than she's been this summer. For example, without bringing home Jeremy's designs for the Harrods campaign, Jane deeply disappoints Gray, who had hoped to use Jane's friendship to manipulate Jeremy into coming home. The designs are the key to the campaign and no designs means no lucrative partnership and no boost to the Donovan Decker brand through their association with the fashion giant. Jane may be able to do a lot of things, but can she convince Jeremy to help her out, even if it means he'll be helping Gray and India?
But Jane does get a $5000 bonus from Donovan Decker, so perhaps things turn around in the finale. The preview hints at the impending purchase of a car, which would make sense since Billy's puttered its final puts a couple episodes ago. However, from the episode description, it'll go toward the financially floundering play, where Jane's been helping with costumes and Billy's girlfriend stars. Will the generous gift help heal the rift between the two ladies once and for all? Or is the rift over Billy simply too large to heal?
The season finale of Jane by Design airs Tuesday at 9:00 on ABC Family. You can check out my thoughts on the most recent episode here.
(Note: if international readers can't view the clips below, try watching them here, here, and here.)