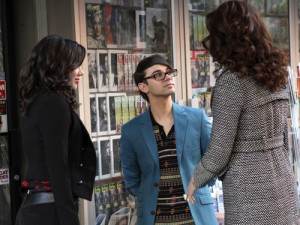 During the back-half of this season of Jane by Design, Gray has been shifted toward the background. On a lot of levels, the recalibration makes sense – Jane's got more of a handle on her job, so Gray doesn't have to breathe down her neck as badly, and Donovan Decker scandal happens among the employees, not the boss. On the next episode of Jane by Design, though, Ms. Chandler-Murray gets to have a bit more spotlight, potentially setting into motion an exit from the company that she helps run.
That comes in the form of a chance meeting on the street with a competitor that had been trying to get in touch recently. Though Gray initially rejects her offer to change companies and come work for her, she doesn't completely shut the door on the idea, telling her that she likes where she's at "right now". With ex-husband Beau getting engaged, could this be a major turning point for Gray? Her life is in transition, so she might be thinking about getting a fresh start in all avenues – personally and professionally. Aside from the job offer, Kate has set up an online dating profile for the fashion exec, which, considering their newfound connection, isn't the most egregious thing in the world. Gray's been burned before and built this hardened shell around her, but is she ready to let herself be open to love?
Kate continues her role as a more active parent by going to Jane's parent-teacher conference, at the annoyance of Ben. He's been doing every parental thing that Jane needs for so long that it has to feel weird (and intrusive) to have another person assume those responsibilities. Ben didn't have quite the emotional reaction that Jane had once they found out their mother was staying, so events like this don't do anything but exacerbate the hard feelings he has for her abandonment. But for now, he has to suck it up and let Jane get to know her mother. How long, though, remains to be seen.
Jane by Design airs Tuesday at 9:00 on ABC Family. You can check out my review of the most recent episode here, as well as spoilers for upcoming episodes here.
[jwplayer mediaid="151888″]
[jwplayer mediaid="151889″]
[jwplayer mediaid="151890″]
[jwplayer mediaid="151891″]