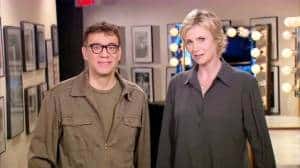 Recent Emmy-winner, Jane Lynch, hosted Saturday Night Live this past weekend. Of course, she was in a skit that parodied her show, Glee. Only it wasn't just Lynch's Sue Sylvester who appeared in the skit – but SNL staple character Gilly as well.
It wasn't the best skit, but it had its moments. Lynch didn't seem to get a lot of awesome one-liners that she regularly gets on the show, but they got a lot of humorous cheap shots at the various Glee characters, portrayed by other SNL actors (Mr. Shue does seem to sing a lot considering he's not even in the club, now that they mention it…).
I didn't actually catch most of the episode, but I did see the skit with the guy playing Denzel Washington. Did you see that? The one at Macy's? I don't know the name of that actor, but I thought he did a terrific impersonation of Denzel and had his voice down pat.
Lynch also sang the "new Glee theme song" in her opening monologue, which you can also view below.
clarissa @ tvovermind.com
twitter.com/clarissa373