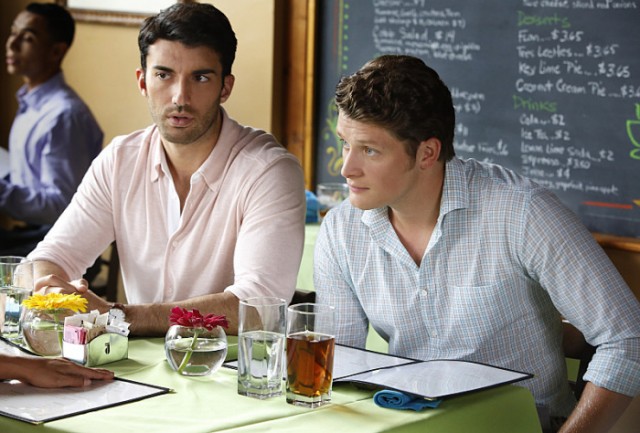 Many shows have tried and failed to employ the 'love triangle' arc in order to create drama for their characters. Most of these series have not succeeded because there was a clear answer as to who the main character should be with, and it was obvious all along how it would end. The drama that they tried to build would fall flat because no one really questioned for a minute that things wouldn't work out for the main couple. But like so many times before, Jane the Virgin has managed to do what other series haven't: create a believable, suspenseful love triangle where there's no clear answer as to what is going to happen. And at the same time, there's no obvious answer to who is best for the main character, leaving the audience torn on who she should end up with as well.
All of this was showcased in last night's brilliant episode of Jane the Virgin, as Jane tried to choose once and for all between Michael and Rafael. The main draw for Michael is that he clearly knows her the best and has proven time and time again that he will always be there for her no matter what. Hard to say no to that, right? With Rafael, though, Jane would get the perfect family that she never had, with the mom and dad both around and in love. Also very appealing. So in the end, when she was confronted head on by the two men about who she wanted to be with, she ended up telling them that she loved them both, the one response that neither wanted to hear.
What makes this love triangle so compelling and unlike any other is not only the fact that both men are essentially perfect. On top of that is the added benefit that all three actors in the triangle do an incredible job with their characters, making you want to root for them…even if it means wanting to root against someone that you were rooting for just five minutes ago.
Once again, this was never more clear than in "Chapter Twenty-Four," where Jane had 'one-on-ones' with both Michael and Rafael. With a little help from "Bachelorette Jane," a somewhat tipsy hallucination that kept bugging Jane to make a decision, she was able to spend some alone time with each man to see where they stand. Brett Dier always does an amazing job of playing Michael with such sincerity; it's difficult not to root for him. But then Justin Baldoni comes in and manages to accomplish the exact same thing with Rafael, making it impossible for both Jane and us to decide between the two. All the while, Gina Rodriquez remains a shining light, showing so much heart and love in her portrayal of Jane that it's hard to be anything but #TeamJane.
Meanwhile, things came to a head in the romance department for Rogelio and Xiomora. After drunkenly getting hitched in Vegas despite recently having called an end to their relationship, Jane's parents could no longer ignore their mistake. To make matters worse, they were forced to perform on a cruise ship together or risk being sued. Having to leave Jane alone with Mateo and her love triangle drama, Rogelio and Xo finally had a much needed talk about their relationship. In a rare moment, the two opened up about how they felt; Rogelio said how hurt he was when she kissed someone else, and Xo expressed her concern about Rogelio still having unresolved issues about being cheated on by his ex-wife so much in the past.
It's impossible not to root for these two characters to work things out, as it's clear how much they love each other. As an audience, it was incredibly rewarding to see them finally have a heart-to-heart, communicating well with each other and working things out. Jaime Camil and Andrea Navedo both brought their A-game to that scene, as it's clear they both have a deep understanding of their characters. Things are looking up for their relationship and hopefully we'll continue to get small moments like that between them for the rest of the season. Of course, we still need Jaime Camil to remain the same comedic genius that he has been throughout the show too.
On top of all this, we were also gifted an excellent performance by Ivonne Coll, as Alba finally confronted her own demon: being an illegal immigrant in the United States. One of the most heart-breaking moments of the season so far came when the police showed up at their house after Jane stole a neighbor's amp. Afraid that they were there for her, Alba had a complete breakdown that eventually led to her making a huge decision. She had lived her whole life in fear of being caught and that has plagued Xio and Jane's childhoods. She doesn't want it to affect Mateo too and she is finally ready to take the big risk of applying for a green card, knowing that her application could be denied. A highly emotional scene in the midst of a rather comedic episode, Ivonne Coll absolutely nailed this moment.
And let's not forget about Petra, who Yael Grobglas has somehow managed to make us root for and like despite how completely insane she is. This character has almost nothing redeemable about her, this season going so far as to steal Rafael's sperm and artificially inseminate herself with it. But for some reason, you still want to see things work out for her, holding on to a shred of hope that she really isn't as crazy as she appears to be. There are small moments, in fact, that she seems rather normal, building on that hope. At the end of the day though, with Petra now pregnant with Rafael's baby, things are most likely only going to get crazier for her. Insane or not, we as audience will enjoy every step of Petra's journey, that much I know for sure.
[Photo via The CW]