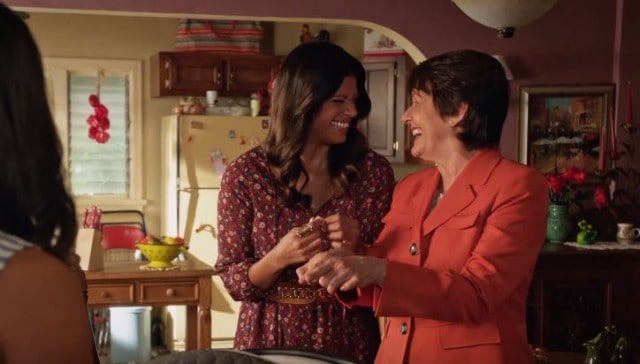 While most of the hype around this Monday's episode of Jane the Virgin has been about Britney Spears' guest appearance as Rogelio's nemesis, "Chapter Twenty-Seven" will also show us another thing we've never seen before on the CW series: the absolute hilarity that is Xo and Alba being high, which is shown in this new sneak peek.
In the clip below, Jane struggles to get her mom and grandmother to sober up and focus before they head to a meeting. However, since the two of them are laughing at how fun the word "normal" is, Jane's chances don't seem to be too good. It's not exactly explaied in the clip how Xo and Alba accidentally got high, but one that is clear is that it leads to some of the funniest moments ever on Jane the Virgin and a great chance for Andrea Navedo and Ivonne Coll to show off different sides of their characters.
Jane the Virgin airs Mondays at 9 p.m. on The CW. Check out the clip from "Chapter Twenty-Seven" below, along with The CW's official description for the episode.
POP STAR BRITNEY SPEARS GUEST STARS — Jane (Gina Rodriguez) thinks she is finally ready to make a decision about her love life. Alba (Ivonne Coll) has taken the proper steps to become a citizen, but Xo's (Andrea Navedo) past might make it more difficult than anyone was expecting. Rogelio (Jaime Camil) learns that his nemesis, Britney Spears, is at the Marbella Hotel and he is determined to confront her about their past. Michael (Brett Dier) is so caught up in his ongoing feud with Rafael (Justin Baldoni) that he ends up in big trouble at work. Meanwhile, Petra (Yael Groblas) gets an offer from her ex Milos (guest star Max Bird-Ridnell) she just can't refuse. Jann Turner directed the episode written by Jessica O'Toole.
[Photo via YouTube]