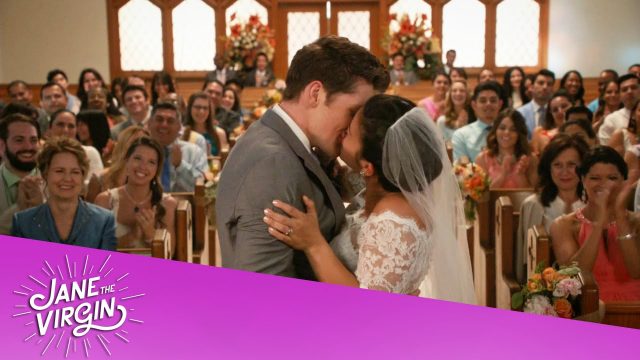 Anyone else need a minute to recover from all the twists, turns, and feels of Jane the Virgin's Season 2 finale? The majority of the episode was dedicated to Jane and Michael's emotional wedding, while the last minutes had three huge game-changing twists we will have to wait until next season to see play out. Did we mention Bruno Mars' surprise guest appearance? You'll probably want to watch this episode on repeat for awhile, at least after recovering from those last ten minutes. This is a telenovela after all. No one gets happily ever after forever.
Rogelio is in full Father-of-the-Bridezilla mode. At one point it becomes hard to tell who he is yelling at! Of course this stressed attitude is nothing compared to the genuine anger Rogelio has when he finds out that Xiomara slept with Esteban. After his anger has subsided, Rogelio allows Xiomara to explain that she doesn't want Esteban, she wants him. They still want different things though. Xiomara doesn't want children, but like it or not she is going to get one. All of Xiomara's nerves weren't  because of the wedding, they were because she is pregnant!
You'd think that with all Jane has going on she would be centering her focus on one thing, maybe two. Jane is always a multitasker. She isn't feeling her thesis so decides to change her thesis at the last minute. Literally the last 34 minutes before her wedding ceremony. Which is why Jane and Rogelio run late to the wedding, and due to car trouble have to take the bus. Count it as one of those beloved father-daughter moments. Much like the moves they bust out in later in the night.
With his mother in jail and his fugitive brother in the wind, Rafael feels emotionally exhausted. Rafael gets a reprieve from the family drama on the eve of Jane's wedding. Rafael wonders if he should make one last ditch effort to win Jane back, but even a newly sober Luisa thinks it's a bad idea. In the end Rafael just can't mess with Jane's happiness, so he says nothing.
Seeing Jane's joy makes Petra ponder if she'll ever have that kind of happiness. Petra doesn't even get to enjoy one nice moment with her daughters before her scheming sister Anezka drugs her. Not only does she drug her, she dyes her hair and switches places with her! Now Petra is lying in a hospital bed locked in her own body, and Anezka is taking over her life. Which she takes full advantage of with a very vulnerable Rafael. It's been awhile since I've been this disgusted with a character, but nothing Petra has ever done holds a candle to what Anezka just did.
The episode is filled with beautiful moments and flashbacks between Jane and Michael. Even their small stress-induced arguments end with you saying "Awww". There's not a dry eye in the house as Jane walks down the aisle. Now I've been Team Rafael from Day 1, and slowly accepting that Team Michael was genuinely pure and right. Nothing solidified that more than Michael saying his vows in Spanish to Jane. As if that wasn't enough to make you swoon, Rogelio got Bruno Mars to sing at the reception! Seriously, major goosebumps people! For our beloved Jane, this truly was the most beautiful, perfect day. Until later that night when Michael runs into his partner Susanna, and an off-hand comment she should be able to recognize makes him do a double-take. Suddenly all the pieces fit together. Michael knows who the mole is. But he's a few second too late, as Susanna, who is actually Rose in disguise, shoots Michael. Whether she shot him dead, we won't find out until next season. The only thing we do know is that Jane is married, and still a virgin.
Did Jane have the perfect wedding day (at least right up until the end)? What was your favorite last-minute twist of Season 2?
Jane the Virgin Season 2Episode 21 Review: "Chapter Forty-Three"
Summary
The big Jane the Virgin wedding finally arrives, but did everyone get their happy ending?