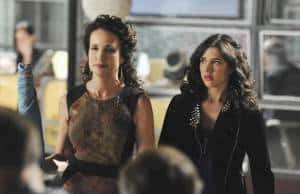 The spring finale of ABC Family's Jane By Design, titled "The End of the Line", isn't quite the end of the line for the show, according to Deadline. The freshman drama has been picked up for eight additional episodes, which will premiere sometime this summer. There's no word on an exact date or what the show will be airing alongside, however.
In the finale, the pressure has been ratcheted up on Jane now that Ben has gotten a hint that there's more to this "internship" than he originally thought. Plus, it's Fashion Week and she has more on her plate than ever, considering Grey's growing confidence in her young prodigy. Will this be the moment that her two lives finally become aware of one another? Or can Jane somehow, some way keep her little secret from those closest to her?
Starring Erica Dasher, Jane By Design follows Jane Quimby, fashion obsessed high school student turned executive assistant at fashion house Donovan Decker. Jane has to somehow balance her life as a student with her life in the design room without either side finding out about the other and. The cast also features Andie MacDowell as Jane's boss Grey, India De Beaufort as Jane's work rival, Matthew Atkinson as Jane's sorta-boyfriend, Nicholas Roux as Jane's best friend, Meagan Tandy as Jane's high school rival, and Rowly Dennis as Jane's co-worker.
Jane By Design's spring finale airs Tuesday, March 6th at 9:00 following an all new episode of Switched at Birth. The first four episodes (and last night's) are currently available to watch on Hulu and ABC Family's website.
Have you been enjoying Jane By Design this season? Do you think Jane and Billy will end up together at the end of the series? Is your hatred of India more along the lines of love-to-hate or hate-hate?