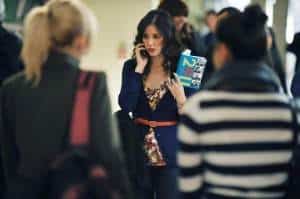 By now, you've (hopefully) checked out the trailer to Jane By Design, ABC Family's upcoming romp through the fashion world starring Erica Dasher and Andie MacDowell. You've basked in the warmth of its fun, frothy glow, ogled Jane's enviable wardrobe, and, well, ogled Jane's boy toys, but what else will be happening in the series premiere?
In the three sneak peeks below, you get a bite sized look at the worlds of Jane Quimby, high school student turned executive assistant at fashion house Donovan Decker. Clip one is where it all begins, with Jane coming face-to-face with Gray Chandler Murray, one of the head honchos at Donovan Decker that hires her on the spot. It looks like Jane was merely trying to apply for an internship the company had, but instead, she's getting thrown head first into the fashion world with notorious assistant eater Murray. Clip two stays with Jane's new professional endeavor, only this time she's meeting (and flirting with) bad boy designer Jeremy Jones. Are you curious how someone underage got into a (what seems to be a) bar? (If you are, that makes two of us.)
Finally, it's time to meet Jane's older brother Ben, her surrogate father once their birth father passed away recently. He's relishing the role, confronting her about their financial issues and trying to get her to just enjoy high school instead of worrying so much. Ben's one of the people closest to Jane, yet he doesn't know about her new double life (though something he says is quite apropos). I wonder how he'll take it when the lying becomes too much for Jane to bear and the plates she's spinning come crashing down.
Jane By Design debuts tonight at 9:00 on ABC Family.
Are you planning on checking the show out tonight?