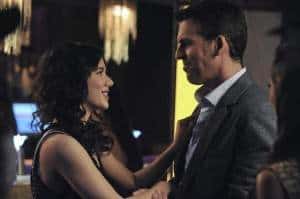 When you've been in a long-running TV series, it can be very difficult to transition out of that role into other roles. People have grown to know you as a certain person, following a show for nearly a decade and catching it in reruns, and getting them to accept you as another person can be all about timing and the right part. Desperate Housewives' Teri Hatcher has her first tip-toe out of the role of Susan Meyer, as she's signed on to recur on ABC Family's Jane By Design for four episodes, beginning on June 19th.
But who will she play?
Hatcher is set to portray Jane's estranged mother, a woman that has forced Jane to have to step out into the real world and take care of herself and her brother. There's bound to be a lot of mixed feelings there – Jane feels abandoned, but if it weren't for her mother high-tailing it out of town, she would have been forced to take the job at Donovan Decker. Her fashion dreams are coming true due to her talent and perceptiveness, but also the drive that she had to get in order to survive. We've seen that Jane is a sensitive girl that's had to thicken her skin a little bit; the return of her mother may undo some of the personal (and professional) progress she made during the initial 10 episodes of the show, opening up old wounds long thought patched up.
Jane By Design may be a fun, fluffy show about a girl achieving her dreams, but this summer, it looks like that girl will have to confront her past if she wants to continue toward a productive, happy future.
Jane By Design returns for another eight episodes on Tuesday, June 5th at 9:00, following the third season premiere of Pretty Little Liars.
What kind of impact do you think Jane's mom will have on Jane By Design? Do you think that she'll be around for longer than four episodes? And most importantly: Billy, Nick, or Jeremy?