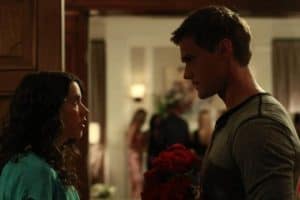 Though it hasn't been without a few bumps and bruises, the titular character of Jane By Design has done a fairly good job of balancing both extremes of her life thus far. She may not have made it back to the winter formal in time to dance with Nick, but her first runway show was a success and it's a victory in itself that the popular boy may have finally noticed the artsy chick that sits to his left in class. And all this while learning who to trust (Jeremy, Carter) and who not to trust (India), so not bad, Miss Quimby.
On tonight's episode, titled "The Birkin", Gray has taken notice of how well Jane has been doing, entrusting her with a gorgeous orange Birkin bag. Jane should be on fashionista cloud nine, but instead of luxuriating in her success, she has to deal with her brother getting a job at her high school and plan a trunk show (that eventually gets out of hand) at Gray's house. It has already been difficult enough to keep it together for the young aspiring designer, but Ben's presence at school will only make it harder to sneak around. Plus, her well done runway show may have been a blessing and a curse, as Gray will only heap on the responsibility from here on out now that she knows what "Janet" can do.
While Jane is running around trying to be everything to everybody, India seems to be content with just being herself; her insecure, highly jealous self, as Jane's success has been eating at her since day one. You want to feel for her because we've all felt "replaced" or unrecognized for our accomplishments at one time or another, but instead of getting her shine the proper way, India's content to try and take Jane (and eventually Gray) out. That kind of mischief is so last season.
Jane By Design airs tonight at 9:00 following a new episode of Switched at Birth.