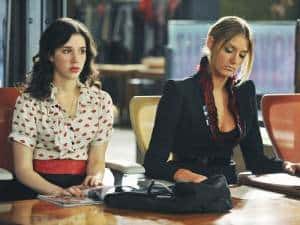 The easy part of Jane By Design's heroine Jane Quimby's journey from high school weirdo to fashion industry mover and shaker is now over. She managed to get the job with Donovan Decker, convince her brother to let her keep it, and perform well on her first tasks from Grey. Now is when Jane's mettle will be tested, with work picking up, school always around, and more boys than she knows what to do with. Can someone like Jane Quimby truly have it all?
If the previews for tonight's episode are any indication, she's darn sure going to try, as each one highlights a specific part of Jane's increasingly hectic life. In the pilot, she met Jeremy Jones, a hunky British designer working at DD that takes a liking to Jane immediately. She may not have returned the gesture, mostly due to his poor reputation, but he's not relenting on the chase. In the first clip, Jones tries to woo Jane again, but our little career girl is too busy stressing to give him the time of day. Considering his track record, I doubt Jeremy gives up, but the same things that worked on all the other girls won't budge Jane.
On the career side of things, Jane's in charge of putting together an outfit for Grey to wear at the upcoming line preview, but India's making it her business to trip the young prodigy up. I don't know why Jane is even entertaining anything India says, considering what she pulled in the pilot, but I'll chalk that up to panic, insecurity, and an eagerness to please Grey. You'd think, though, that Jane would have learned that cattiness isn't limited to the halls of her high school.
And if you were wondering about her motivation, the third preview may be for you, as Jane is in this thing for the long haul. Her new life may be chaotic and will soon force her to sacrifice things, but for now, Jane Quimby is full steam ahead on the road to the perfect life.
Jane By Design airs tonight at 9:00 on ABC Family following Switched at Birth. If you missed the pilot, you can check it out on ABC Family's website or Hulu.