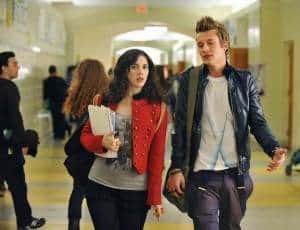 We've all been where Jane By Design's Jane Quimby is at right now. You know, barely making it through a normal day of high school without tearing your hair out, saved only by a few good friends and a promise of better things to come in the future. While the rest of us had to wait until after we graduated to finally become ourselves, it looks like Jane is getting a (very) early start.
In Jane By Design, the title character gets mistakenly hired as an executive assistant at Donovan Decker, a local fashion house that thinks she's an adult. Instead of chucking the $30,000/year starting salary (and access to a innumerable cute clothes), she has to learn how to balance life as a high school student, working woman, and regular girl without anyone finding out otherwise. The only one to know about Jane's double duty is her best friend Billy (Nick Roux), but her boss Gray Chandler Murray (Andie MacDowell), her brother Ben (David Clayton Rogers), and her school crush Nick (Matthew Atkinson) are in the dark about the other side of Jane Quimby.
If that wasn't difficult enough, Jane has to deal with multiple people trying to take her down. By day, she deals with constant verbal barbs from schoolmate Lulu (Meagan Tandy), but by evening, there's social climber India (India de Beaufort) ready to trip her up at every turn. Life at Donovan Decker isn't all bad, though, since Jane meets designer Jeremy Jones (Rowly Dennis) and the two share more than just a professional relationship.
Jane Quimby (Erica Dasher) is living the life that all misfits, dreamers, and outsiders yearn to, whether they're in high school or 70 years old. This is a main character coming into her own and living her life the way she wants, happy accident or not, and her journey toward self-discovery should be a beautiful thing to behold.
Jane By Design debuts Tuesday, January 3rd at 9:00 following the premiere of Switched at Birth.