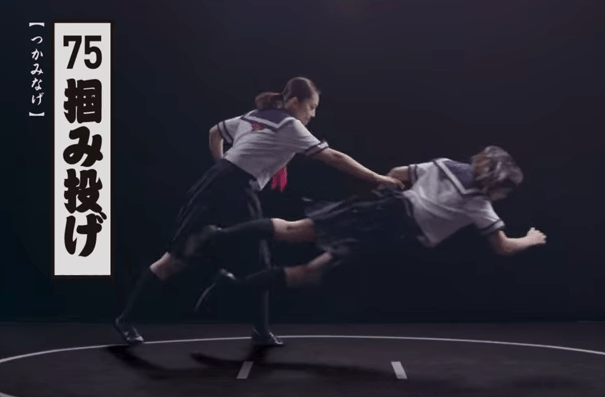 It's not that Sumo wrestling was ever out of style, but when you have a completely new way of marketing and displaying this form of Japanese sport, it's important to take note.  Well, it's important when said sumo wrestlers are wearing "schoolgirl" outfits. Two Japanese sumo girls are seen twisting, throwing, and body dropping each other with ease in a promotional video for a high school sumo tournament.
The video, entitled "Sumo Girl 82 techniques", showcases the 82 known winning techniques of sumo wrestling and is a promotional video for the High School Sumo Kanazawa Tournament. The high school tournament, which falls on May 21, takes place every year and has been held since 1915.
The girls in the video aren't actual high school students nor are they sumo wrestlers.  They're Japanese actresses.  Despite them being actresses it's safe to say I wouldn't want to get in the ring with either of these ladies.  If I lived in Japan I think after seeing this video I would definitely consider heading to that tournament.
Check out the video below:
https://www.youtube.com/watch?v=M73ZchccK2A