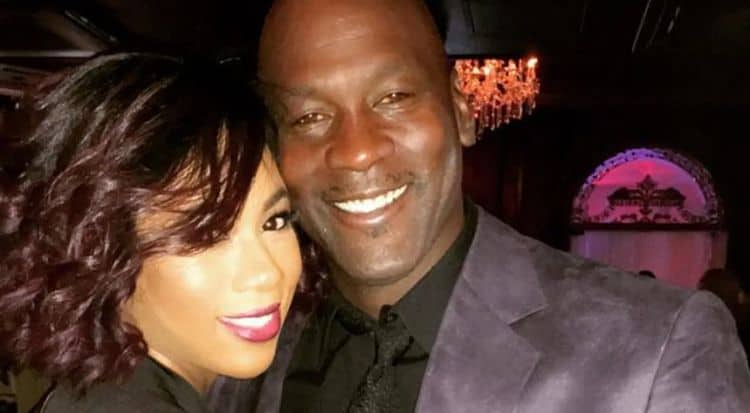 Michael Jordan is arguably the greatest basketball player who ever lived. However, his greatest legacy has nothing to do with the game of basketball. Jordan is the proud father of father of 5 children. Like their father, Jordan's sons were also basketball players although neither made it to the NBA. His oldest daughter, Jasmine, may not be an athlete, but she is working hard to build a legacy of her own. Now in her late 20s, Jasmine is showing that being a boss is just something that runs in the Jordan family. Continue reading for 10 things you didn't Jasmine M. Jordan.
1. She Is A Mother
Jasmine Jordan has a long list of accomplishments to be proud of, but her proudest moment has been becoming a mother. Jasmine has an adorable son named Rakeem. Not only is Rakeem Jasmine's first child, but he is also Michael Jordan's first grandchild.
2. Her Son's Father Was In The  NBA
Rakeem Christmas is Jasmine's fiance and the father of her child. He was selected as the 36th pick in the 2015 NBA draft and was chosen by the Minnesota Timberwolves. However, he was eventually traded. He spent much of the 2015-16 season playing on the Indiana Pacers' D-League team.
3. She's A Nike Jordan Executive
When I said Jasmine was a boss, I wasn't exaggerating. She is an executive for her father's Air Jordan brand, and it's not just a fancy title. Jasmine actually puts in work to help the brand succeed. When asked about her day to day responsibilities, Jasmine said, "I am the liaison between Jordan Brand and the athletes that we have signed on Jordan Brand. I make sure that our players get everything from footwear to apparel to succeed on the court and to be fashionable off the court. And we make sure that they're doing custom colorways for their games. Then, on the back end, when we do photo shoots and appearances, I make sure I get everything on schedule so that way we can market each player."
4. She Loves To Share Her Story
Growing up with a parent as famous as Michael Jordan could have easily resulted in Jasmine living in her father's shadow. However, she has worked hard to create her own lane. Over the years, she's gotten more comfortable with sharing her story and letting the world know exactly who she is.
5. She Has Hundreds Of Pairs Of Jordans
Jasmine doesn't just work for the Jordan brand, she's also a fan of it. Jordan says that she keeps Jordans at both of her parents' houses and at her brother's house. In her North Carolina home, she also has about 300 pairs of the famous sneakers.
6. She Studied Sports Management
Even though being a competitive athlete wasn't her thing, Jasmine still had an interest in sports. She attended Syracuse University where she studied sports management. Syracuse is also where she mer her fiance.
7. She's A Fan Of The Last Dance
ESPN's new docuseries The Last Dance, has become a huge hit. The series tells the story of Michael Jordan's career, particularly his final season with the Chicago Bulls in 1998. Jasmine is a fan of the project and says that it's "super exciting" to get the chance to watch it.
8. She Trusts Her Gut
Michael Jordan was known as an incredibly fierce competitor who was able to make tough decisions in the blink of an eye. This ability to think with his gut is one of the most valuable lessons he passed down to Jasmine. She says that her taught her the importance of being able to trust your instincts, and this is something she has implemented into her daily life.
9. She Attended Public High School
Most people would probably assume that Jasmine went to a top of the line private school with very exclusive enrollment. However, that wasn't exactly her experience. For the first two years of high school, she attended a Catholic school. She transferred to public school for her junior and senior year, and she says she couldn't be more grateful. She told In Style, "I benefited tremendously from public school, as I was able to understand that the average person does not live like me. "
10. She Didn't Always Recognize Her Dad's Star Power
To the world, Michael Jackson is a legend. But to Jasmine M. Jordan, he's just dad. Jasmine admits that she wasn't always aware of just how famous her father is. She even says that she Googled him once to see what all the hype was about.