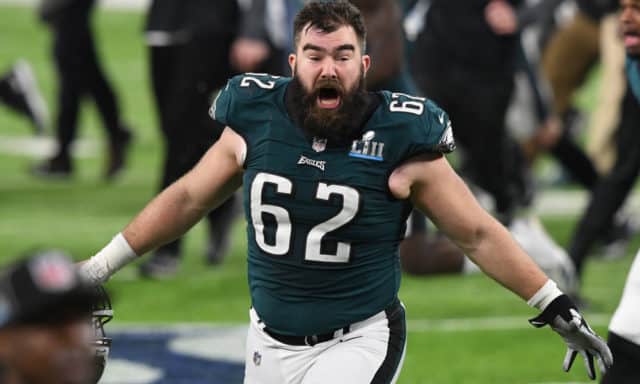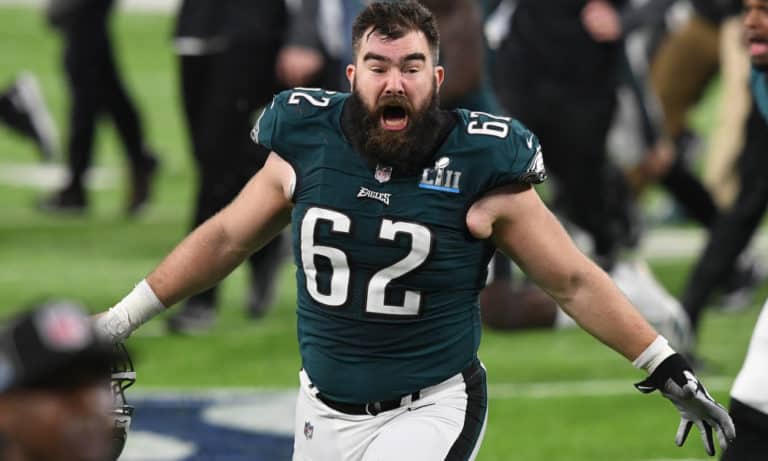 Jason Kelce's Super Bowl parade speech is one for the ages but it's also one that he might be choking on come next season if the Super Bowl curse takes firm hold of the Eagles. He's right to be fired up, he deserves it just as much as the other Eagles do, and just as much as the fans in Philly deserve to be going crazy right now thanks to bringing home the Lombardi. The high of winning the Super Bowl is something that every team that's ever done it has gone through. The only issue with that is now that they've done it, will they be able to go back?
A hungry dog runs faster, right? That's a true saying no matter where you go, but as Chris Kelce continues to go on his rant you get the sense that it's more about frustration that this is his team's first ever Super Bowl win and not so much about the fact that they DID win. He goes on to state that Philly has some of the angriest fans and it's true if you watched any of the celebration clips that emerged right after the game was over. People were losing their minds in Philly and tearing things apart from street to street. It looked more like a riot in progress rather than a celebration. It's not really for anyone to downplay what it means to Philly to finally win the big one, but Kelce seems to be of the mind that going absolutely nuts is the way to go about it. There's been a lot of criticism over how the new Super Bowl Champions and their fans have gone about making sure people know who's the top dog now, but they can only hope and pray that this opportunity can be repeated next year or sometime soon, otherwise they'll be subscribing to the Super Bowl curse that's been so prevalent throughout the years.
The underdogs were the hungry dogs that went in search of a meal alright, but unless they're that hungry again next year their chances drop dramatically for a repeat once the season starts. That dog isn't always so hungry after he's been fed, and a dog that's not hungry don't hunt. Kelce's got a lot of good points when he talks about the team and about Philly and about how the analysts didn't give them a fighting chance, but if he thinks Philly is the only team that analysts pick on he's got another thing coming. The fans in Philly are some of the most loyal and dedicated when it comes to their team, so much so in fact that it's been heard that a Philly fan will actively fight anyone that badmouths their team.
That speaks of a whole lot of passion but not a lot of experience. The Eagles have been a contender in the past, and have made it to Super Bowl before. The only difference between then and now is that now they've come away with the Lombardi trophy. That makes a world of difference, but it also begs the question as to why they can't win with a small shred of dignity on the part of some of their players, and their fans. It would be right to say that we should just let them have their say and enjoy their moment, that's theirs and they've earned it, but the saying 'act like you've been there before' is also pertinent. The Eagles have had some hard times throughout the years but they've won championships and had a less than bottom-tier existence for many years.
Enjoy the win Eagles, you've earned it. But stay hungry or it goes away in a big hurry.
"HUNGRY DOGS RUN FASTER. AND THAT'S THIS TEAM!"

Jason Kelce just lost his voice and delivered one of the greatest parade speeches EVER. [NSFW] pic.twitter.com/d2wjGDBgYL

— Sports Illustrated (@SInow) February 8, 2018