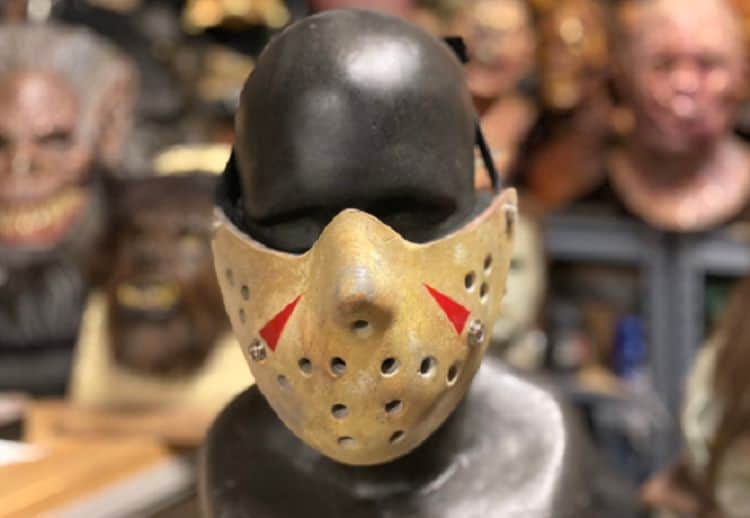 It wasn't bound to take long for the protective masks that are being pushed thanks to the coronavirus to become fashion statements or be influenced by pop culture in a big way. While there are plenty of masks out there to choose from, including the regular types that are found in hospitals, clinics, and on sale in stores, it would appear that Tom Savini of Friday the 13th fame has helped to create customized masks that run from $60 to $100 depending on whether a person wants theirs signed or not by the man himself. Cody Hamman of Joblo has more to say on the matter. It's easy to make an argument that those making the masks are seeking profit in time of a pandemic and as you can guess, the issue gets pretty muddy considering that everyone wants to make a living but making something that could possibly mean the difference between living and dying is still controversial as hell. In a big way people are having fun with these since the franchise is still one that pulls in a lot of fans and is still insanely popular despite the many sequels that just haven't worked that well and a few of them that have made people shout 'wtf' in a nearly empty theater. I promise, it wasn't just me when Jason X came out.
You asked, we answered! "Hockey mask" personal protection masks now available. Contact/ DM @bakingjason for details. #tomsavini pic.twitter.com/uNywnJ7Kyy

— Tom Savini (@THETomSavini) April 29, 2020
Jason Voorhees is still a huge draw for fans since the zombified killer is the kind of horror monster that you already know is going to keep coming, but somehow finds new ways to kill people in every movie that makes it dynamic enough to keep watching. It's morbid as hell to think that people watch these movies in an effort just to see what might happen this time around, but that's a big part of what draws folks to this franchise. Will he snap someone in half? Will he hack their limbs off one at a time? Will he impale them to a tree? The possibilities aren't exactly endless since there are favorite types of death scenes, but beating two holographic females while they're bound in their sleeping bags was kind of inventive and a bit corny really, but then again so was punching a sentient robot's head clean off with one strike, which has been done with a human in a Jason movie as well. The franchise has taken a lot of ups and downs throughout the years, that much is obvious, but it's remained fairly popular for a long time now and one of the most iconic parts about it, the hockey mask, is now going to be put to use in much more effective manner. At least that's the hope since there's not much word on whether or not these masks are actually medical grade or if they just happen to look nice.
Dropped off a batch of ppe's w/ @THETomSavini last night for signatures. Taking extra precautions and practicing social distancing. pic.twitter.com/SqjWoo0S6A

— Jason Baker (@bakingjason) May 16, 2020
Given the price it might be that the materials being used are actually capable of keeping out most germs, but charging another $40 for an autograph sounds a bit dicey really, even if it is Tom Savini, someone that's been extremely popular in the horror industry for some time. If someone's going to justify this cost by saying the Savini needs the money it'd be time to laugh and grill yet another celebrity for playing the part of a hypocrite, but the hope of course is that the funds are going to a worthy cause that can help make a difference in the lives of others and will go a long ways towards some sort of relief from the pandemic. That being said, spending that kind of money on one mask that probably doesn't take that much to make is still a bit ridiculous, though it's not too surprising that people would. Folks wanting to own any part of pop culture are bound to pay whatever prices that people ask since they're so bound up in the idea of owning a piece of history, no matter if it's mass-produced or made to order, aren't really thinking of cost, they're thinking of the sentimental quality of the item and that they'll have something to look back on later in life when they go about reminding themselves of just why they bought this or that.
It's very likely that this idea will end up making a good deal of money and whatever is done with it you can bet that those buying these masks will feel confident that they've made a great purchase that will somehow be valuable down the line. A lot of people tend to buy things for this purpose since it is nice to know that items that belong to pop culture can appreciate at times. However, if these masks do appreciate it's going to be because they're being given a limited run and Savini will have signed a good number of them no doubt. Otherwise they're eventually going to be a relic of an era in a few decades. Greg Rosalsky of NPR has something to say about the cost of masks.