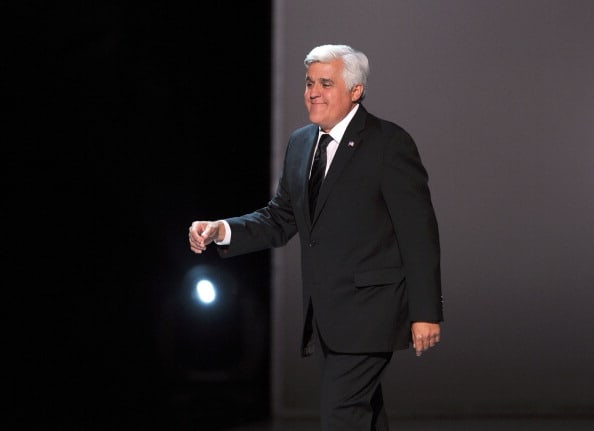 Jay Leno is returning to The Tonight Show, but it's not what you may be thinking. No, Leno, has not decided to try to take over the role of Tonight Show host yet again. Instead, he will be a guest on Jimmy Fallon's show this coming Friday, alongside Lucy Liu and Kevin Delaney.
His appearance this Friday will mark Jay Leno's first time on The Tonight Show since he finished his hosting duties earlier this year. Leno concluded his second run on the late night show back in February.
After originally leaving The Tonight Show in 2009, Leno retook his position as host from Conan O'Brien back in 2010 amid a  great deal of controversy at NBC. Reportedly, Leno hasn't spoken with O'Brien since he left NBC and moved to TBS, where he has been hosting his own late night talk show since Nov. 2010.
When he took over The Tonight Show back in February, Fallon made it clear that Leno, who hosted the show for 22 years, was always welcome back as a guest. In fact, he even insisted that he would pay for Leno's flight himself.
"I told Jay, I gave him a round-trip ticket to New York," Fallon said earlier this year before he became The Tonight Show host. "The stage is his, so whenever he wants, he's got a stage."
Although this will be his first time returning live to The Tonight Show, Leno has technically appeared on the Fallon-hosted version of the late night talker before, making a cameo in the House of Cards parody "House of Cue Cards."
Photo by Kevin Winter/Getty Images