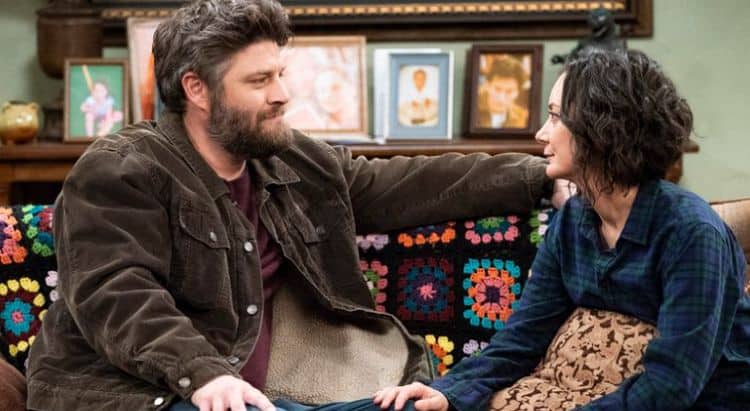 Jay R. Ferguson's acting career has been nothing short of impressive. In an industry where consistency and longeivity are two of the hardest things to come by, Jay has managed to achieve both. He made his debut in the 1990 made for TV movie, Shattered Dreams. He spent several years landing other small roles until things finally started to look up for him in the late 2000s. Since then, he has gone on to appear in several successful films and TV roles. He is most well-known for playing Stan Rizzo in Mad Men. Recently, he has also gotten a lot of attention for his role as Ben in The Conners. Keep reading for 10 things you didn't know about Jay R. Ferguson.
1. He Was An N.W.A Fan
When Jay was younger, one of the first jobs he had was cutting grass in the neighborhood. Although he didn't really enjoy the job, it gave him the chance to put his Walkman to good use. During an interview with the TV AV Club he said, "I had my little cassette Walkman and I'd listen to "Straight Outta Compton" over and over again, so I'd be a little 12-year-old white kid in suburban Dallas mowing lawns singing the words to "F**k Tha Police." It was really quite a combination."
2. If He Were A Supervillain He Knows Exactly What His Master Plan Would Be
Have you ever thought about what your evil plan would be if you ever became a supervillain? Jay certainly has. If he ever got the chance, he would devise a plan so that children were no longer allowed on flights with adults. Instead, they'd have to ride on kid only planes.
3. He's Not Active On Social Media
Since his role in Mad Men, Jay's star has really been on the rise. Most people would probably assume that he has built up a pretty big social media following by this point, but the reality is that he doesn't appear to be active on social media at all. He doesn't have verified accounts on Twitter or Instagram.
4. He Likes Taking Roles In His Comfort Zone
Most actors pride themselves in taking roles that force them to step outside of their comfort zone and try new things. That isn't Jay's philosophy at all though. He told The Los Angeles Times, "I don't like doing what I'm afraid of. I like doing what I'm comfortable with. That's usually been my way of navigating through the business."
5. His Mom Is An Actress
Jay isn't the first person in his family to embark on the journey of becoming a professional actress. His mom is Bobbie Ferguson who appeared in several TV shows throughout the 70s and 80s. Most notably, she appeared in several episodes of Designing Women and Dallas.
6. He Almost Walked Away From Acting
On the surface, Jay's career has been pretty consistent. However, getting small roles here and there hasn't always been enough to pay the bills. At one point in time, Jay contemplated walking away from acting, however, a role in the 2008 series, Easy Money allowed him to stay afloat and gave him the confidence he needed to move forward.
7. If He Wasn't Acting He May Have Gone Into Wine Making
Acting is what Jay has wanted to do for as long as he can remember, but if he weren't acting, he thinks he may have gotten into the wine industry. He told TV AV Club, "I've always thought if it didn't work out for me in this business, I'd go and be a winemaker or something. Just live on a vineyard and pick grapes. It has to be some sort of manual labor, because my skill set is pretty scant, at best."
8. He's Good Friends With Leonardo DiCaprio
Jay has been in the industry since he was a teenager and he's made a lot of famous friends along the way. One of the people he's been good friends with for several years is Leonardo DiCaprio. In fact, Jay was a member of Leonardo's infamous friend group, The Pu**y Posse.
9. He Went To Space Camp
Jay has always been interested in the world beyond planet earth. During an interview with AMC, he confessed that he considers himself a "space nerd". When he was a teenager, he even went to space camp. Unfortunately, he didn't share whether he had any theories about life on other planets.
10. He's Happily Married
Despite the fact that Jay would prefer it if kids weren't allowed on planes with an adult, he is a loving and proud father. Jay and his wife, Lorena Ruiz, have three children together. However, details about his wife and children are hard to come by as he prefers to keep his personal life out of the spotlight.