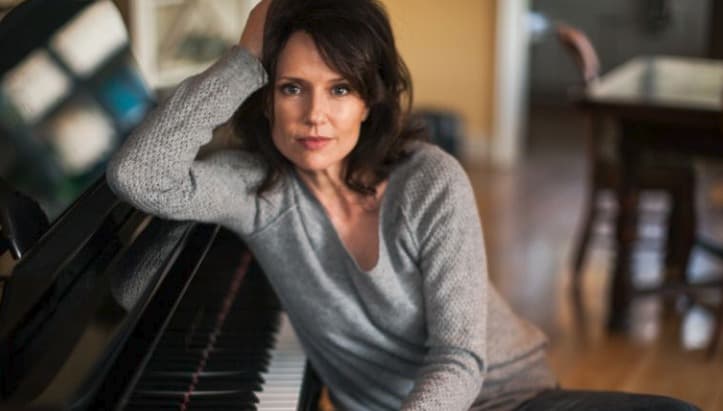 As actors get older some of them don't change all that much and it's easy to recognize them from the things they've done in the past. But then there are those that grow up and change just enough in their looks and their talents that you have to do a double-take in order to understand that you're looking at the same person you watched or listened to years before, just more mature and likely more accomplished. Jean Louisa Kelly hasn't changed so much that she can't be recognized but a big part of her appearance now has to do with the fashions and the trends that were popular when she first started out in the business. Remember the frizzy hair and the clothing that hid pretty much everything despite being form-fitting in some cases? She was a pretty young woman, and now she's grown into a very fetching middle-aged woman.
Here are a few things you might not have known about her.
It's always great to have friends in the same line of work and one of the most compatible things about them, it would seem, is that they're exactly the same age, give or take a month here and there, and had likely seen the industry change at the same rate. The only different is that Jean started out in show business several years before Jennifer did.
9. She started out as a child actor.
She wasn't as young as her costars when she debuted in Uncle Buck but she wasn't all that old either since she was still a teenager when she played the irritatingly difficult role of Tia in the well-known and well-liked comedy.
8. She was in Mr. Holland's Opus.
You can definitely say that she's had the chance to star alongside some of the greatest actors in the industry during her career since being able to act opposite of Richard Dreyfuss when he was still at the peak of his career is something to be impressed with.
7. She's been a stage actor.
Jean's done some stage work as well in her career and it seems to have helped since her on screen presence became just a bit stronger after the fact. In some ways it seems as though stage acting might actually bolster a lot of individuals that take on a role here and there.
If you stated that Tia was nasty it would have nothing to do with her looks or her personal hygiene, but it would have everything to do with her attitude. She was highly antagonistic to her parents and even worse to her Uncle Buck since she knowingly sabotaged his relationship with his girlfriend. Thankfully by the end of the film however she and Buck had made amends and come to a better understanding of one another.
5. Her career started in the late 80s.
As it was stated above, Uncle Buck was her debut and the first time she managed to step on screen. That's impressive really since she did a pretty good job at playing the stereotypical teenager that just hates everything and everyone, well, mostly. If things weren't going Tia's way then she was bound to be just as mean and nasty as possible. From that point on though her acting career was pretty solid.
4. She graduated with a BA in English.
Usually you hear more about actors majoring in theater, communications, and other related disciplines, but every now and again you get to hear about one or two of them that decided to go a different route and yet still became famous on screen, at least for a little while.
3. She's been a singer as well.
Jean does have a great voice when you listen to her and she did manage to get her songs out to the public. It's kind of assumed that they didn't make a hit with any but those that really enjoyed her voice but the effort was enough to make it worth the while.
2. She's guest-starred in a few shows.
She seems to strike a person as one of those stars that got off to a moderately good start and then kind of faded away as other interests in her life started to take over. But she never dropped off the map entirely as she's been around making guest appearances and even taking on recurring and main roles in series over the years.
1. She's a big fan of musicals.
It's even been heard that she'd love to see musicals come back to TV or to the big screen since they seem to be lacking in this day and age. The only drawback to this is that they might catch everyone's attention since a musical is kind of a niche idea that not everyone gets into.
Actors like Jean definitely have the staying power to remain a part of the industry.