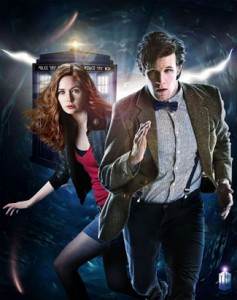 This article contains minor spoilers, so read through squinted eyelids if you don't want to know one small detail about Doctor Who's Christmas special.
That small detail? At least one scene is being filmed on a beach. The beach — Newton Beach in South Wales, to be specific — has been reported by the Sun as the filming location for part of the special, which will also feature Michael Gambon in a guest role alongside main cast members Matt Smith and Karen Gillan.
But it seems as though some aspects of nature don't want the Doctor Who episode to be filmed: Moon Jellyfish.
Quite a few of the creatures washed up on the shore of Newton Beach, though not, apparently, during filming. Instead, locals using the beach were left to be alarmed by the sight of the jellyfish, which one onlooker described as being "straight out of science fiction."
Filming was presumably delayed until the jellyfish issue could be sorted out.
The Christmas special has remained fairly draped in mystery, with guest stars being the only revealed information. Steven Moffat previously described the special as "most Christmassy," and there have been hints that it will be an homage to Charles Dickens' novel A Christmas Carol.
Doctor Who's Christmas special is still currently filming, and will premiere in the UK on Christmas day. Whether it will air the day after in the US, as it did with last year's "The End of Time," remains to be seen, though I would say that's a safe bet.