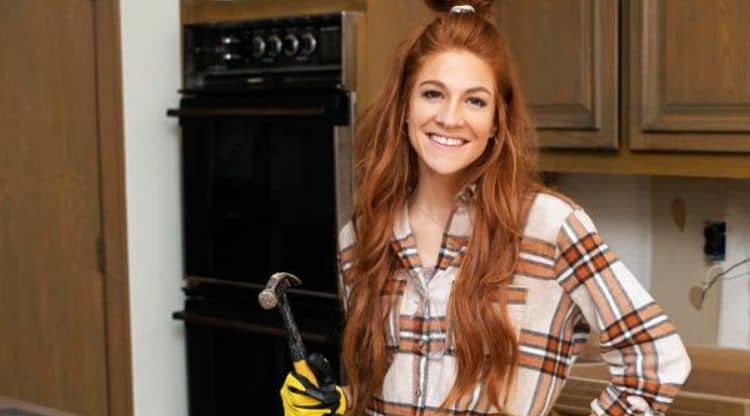 How many times have you fallen in love with the idea of a home renovation project, but simply didn't want to deal with your home being a construction zone for an extended period of time? If the answer is more times than you can count, you aren't alone. There's some good news, however. Thanks to HGTV's new show, No Demo Reno, you can now get an up-close and personal look at home renovation projects that can be completed without any major demolition. The show is hosted by Jenn Todryk who is a new face to HGTV and the home renovation world in general. Despite being a newcomer though, Jenn has managed to hold her own and her bright personality is already proving to be a great fit for TV. Here are 10 things you didn't know about Jenn Todryk.
1. No Demo Reno Wasn't Her First Opportunity To Do A Show
Although No Demo Reno is Jenn's first time doing a TV show, it isn't the first time she was given the opportunity. During an interview with DFW Child, Jenn shared that a production company reached out to her in 2018. The company wanted to do a show about Jenn and a friend of hers doing home design projects for other people. She said, "me and my friend were going to decorate homes. We even went out and got an estimate of someone's house and did a whole consultation. Then I get pregnant, and I'm like, This just isn't meant to be. I'm creating a business that I'm not even doing, technically, which didn't seem authentic to me. I told my friend, "I'm so sorry, but I can't do it."
2. She Auditioned For American Idol
When American Idol first started, the audition process attracted lots of people – even those who had never previous attempted a singing career. Jenn was one of the many people who auditioned for the show back in the day but it doesn't look like she made it past the audition round. Unfortunately, we weren't able to find any footage from her audition.
3. She's A Blogger
Jenn may be new to the TV world, but she's certainly no stranger to having a large audience. She has been a blogger for the last several years and she runs a website called The Rambling Redhead. Her blog covers a variety of topics including beauty, home decor, fashion, and motherhood.
4. She's A Tarleton State University Alum
Jenn is a Texas girl through and through. She was born and raised in the Lonestar State and attended college there as well. She has a bachelor's degree in fashion merchandising. After college, she began working in the fashion industry and got jobs with well-known stores such as Zara and Forever 21. 
5. She Owns A Coffee Shop
To say that Jenn can do a little bit of everything might not even be a strong enough statement. On top of being a wife, mother, and now TV star, she is also the co-owner of a local coffee shop in Texas with her husband. The couple has been running Armor Coffee Company for the last two years and they have become well-known in the area.
6. She's An Author
In addition to all of the other things we've already mentioned about Jenn, she is also a published author. In 2017, she released a book titled Whine: 50 Perfect Wines to Pair with Your Child's Rotten Behavior. We weren't able to find any information on whether she has plans to write more books in the future.
7. She Has Hashimotos
Jenn suffers from a disease called Hashimotos. According to the Mayo Clinic, "Hashimoto's disease is a condition in which your immune system attacks your thyroid, a small gland at the base of your neck below your Adam's apple." Fortunately for Jenn, the disease is not life-threatening and can be treated.
8. She's All About Positivity
Staying positive in a world like the one we live in isn't an easy thing to do, but it's something that Jenn has made a priority. She does her best to see the bright side in every situation. On The Rambling Redhead, she said, "I'm a naturally positive person. Negativity drains me. Why dwell on things I can't control?"
9. She's A Dog Person
Jenn and her husband have three children together, but her role as a mother doesn't stop there. She is also a proud pet parent to a beautiful golden retriever named Gary. Not only does Gary make lots of appearances on Jenn's Instagram page, but he also has his own account – and yes, he does have more followers than most of us will ever see.
10. Her Faith Is Very Important To Her
Texas is known for being a conservative and Christian state, so it's not much of a surprise that religion is very important to her Jenn. While she hasn't gone into the specifics of her beliefs, she is a devout Christian who has relied on her faith in God all throughout her life.