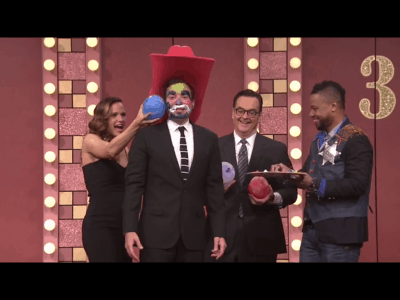 Time for another new Tonight Show game! This one, Truth or Door, is as simple as truth or dare, only with a limited number of dares behind three doors for the contestants to choose from.
Jennifer Garner (Miracles from Heaven) and Cuba Gooding Jr. (American Crime Story: The People Vs. O.J. Simpson) joined host Jimmy Fallon on the new game set. With one simple Truth Box on a podium in front and three doors behind them, the game started with Cuba's turn.
He chose a door which revealed a cowboy costume to wear for the rest of the game. The whole dare gag was meant for him to answer his name with "Yeehaw" but he added the "Yippie ki-yay Mother" part himself.
Jennifer's turn was barely a question of truth or door, as she walked right up to door number 3. Her dare was a strange one, to hold frozen water balloons. She didn't have to hold on to them for very long since Jimmy was up next. He was the only one to pick a personal question from the truth box – until he read the question asking to talk about losing his virginity. Immediately regretting that decision (as if it wasn't scripted!) he went to the last dare.
Steve Higgins presented Jennifer and Cuba painting trays to paint Jimmy's face so that he ended up looking like a clown. All in all, this was a weird set of dares but it was fun. By the time Cuba Gooding Jr. came back out for his interview in the next segment, Jimmy's face was clean and clear again. Next time I hope the celebrity guests are more daring to go for some truths. That, or have better actual dares. The option of choosing a door is at least one more way to involve the audience in the game much like a legitimate Price is Right or Let's Make A Deal crowd.
Watch the Truth or Door clip here:
You can catch Cuba Gooding Jr. on The People Vs. O.J. Simpson airing Tuesdays at 10 on FX. Jennifer Garner stars in Miracles From Heaven in theaters now.