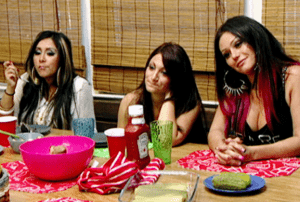 Last week's premiere of Jersey Shore acted as a reality check to anyone still in denial about this being the final season of the show.  While there was still a fair share of clubbing and drinking, the dynamic was noticeably different with Snooki absent from the party scene and Mike, while present, not necessarily participating.
It didn't take long for Snooki to realize that living in a house made for partying was not ideal for a pregnant lady, so in last week's episode, she put the wheels in motion to get her own place nearby. Snooki's fiancé and baby-daddy, Jionni, came to take her out for date night and to, in theory, keep her from getting too bummed about missing out on clubbing, but his disinterested attitude and lack of affection didn't seem to do the trick to keep her mind of the fun going on at Karma.
The rest of the Jersey Shore gang spent their first night at Karma and things were pretty much the same as usual (sans Snooki) with Ronnie and Sammi getting into it and the guys scoping out the ladies. While Mike did pass on the alcohol for the evening, he did not pass on the trashy women, still bringing two home for him and Pauly, which didn't end up working out. Deena, who is overly struggling with missing her boyfriend, spent much of the night being dramatic and crying, despite the fact that her boyfriend was actually there visiting. Hopefully she gets over pining for him very soon because a once likable party girl is now just being annoying.
Tonight on Jersey Shore, MTV is giving viewers another week of back to back new episodes, one of which promises to have "the biggest fight in Jersey Shore history." Also on tonight's episodes, Snooki will finally get her own place and finds that the rest of the group are actually a little jealous of her new pad.
Jersey Shore airs Thursdays at 10/9c on MTV.