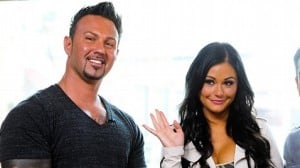 It seems some fist pumping may be in order to celebrate the big news of Jersey Shore's Jenni "JWoww" Farley's engagement to boyfriend of two and a half years, Roger Mathews. Although the news came on Wednesday, it seems the pair have actually been engaged for several months but kept it under wraps in order to air it on MTV's "Snooki &Â  JWoww."
Jenni's husband to be, who makes regular appearances on both Jersey Shore and "Snooki & JWoww," popped the question while the couple was sky diving by holding up a sign that read "Jenni, Will you…?" "The whole time I'm screaming, 'What are you doing? What's going on?'" JWoww told In Touch Magazine of Roger's proposal. He clarified with a simple "I want to spend the rest of my life with you. Will you allow me to?" Awww… Guidos have feelings too.
If Jenni hesitated at all to say yes to Roger's proposal (and it doesn't sound like she did), one look at the gorgeous 5-carat sparkler he presented her with should have helped her make up her mind. The reality star explained that she always had said she wanted a ring as big as her now fiancé's personality.
Although it seems the Jersey Shore bunch seem to be growing up and moving on with their lives, at least one member of the crew is holding out, sharing his disappointment with MTV News in an interview. Ronnie Ortiz explained that Roger was supposed to propose to him first, so naturally there was a little disappointment there.
Jokes aside, it seems the Jersey Shore gang couldn't be happier for the couple entering into the final season of Jersey Shore beginning next week.
The sixth and final season of Jersey Shore premieres October 4th at 10/9c on MTV.